Admissions/Registration staff a vital department at BBGH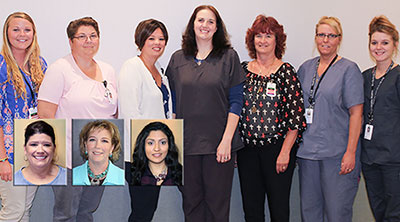 Constant and consistent interactions between departments at Box Butte General Hospital (BBGH) are important for the overall care of the hospital's patients, none more so than the Registration Department, according to that department's Manager Meg Craig.
Ms. Craig took over as manager in June of 2017, after seven years as the office manager for the BBGH Diagnostic Imaging Department.
"I very much enjoyed managing the Radiology Department's office and decided I wanted to grow in that capacity when the Registration Department manager position became available in May," she said. "I'm glad I applied and I'm happy I was chosen as manager."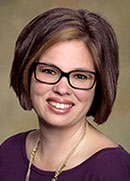 Ms. Craig manages a staff of nine employees who handle admissions for appointments to various departments in the hospital and emergent care in the Emergency Department.
"Registration is an entry level position at BBGH, and we try hard to hire individuals who are people persons," she said. "A registration clerk is almost always the first person a patient or family member sees when walking through the hospital's doors. First impressions are very important and we want our staff members to start the patient's experience at BBGH in a positive and helpful manner. We want our staff to help the patient or family member with whatever they need, ranging from getting a cup of coffee to getting them where they need to go."
She said her expectations of her staff starts with the fact that the patient comes first. "Our staff members, after inputting all the information needed when registering, are asked to personally take the patient to where they need to be, or if other patients are waiting to register, have a person from the department they have an appointment with come get them."
The duties of the staff include: Greeting the patient; verifying the patient's information (up-to-date address, insurance and phone number); collecting up-front deposits if required; and taking the patient to their destination.
"If a physician or non-physician practitioner in a clinic thinks a patient has to be admitted to the Patient Care Unit for observation or treatment," Ms. Craig said, "the PCU staff contacts our staff with pre-registration information so that when the patient comes into the hospital all we have to do is ask our verification questions to make sure we have the right information for that patient."
Verification questions, which are asked every time a patient comes to the hospital, are very important. They include asking for the patient's name, address, phone number, driver's license, and insurance card. If a patient forgot to bring their insurance card, the registration clerk will input the patient as self-pay, and ask the patient to either bring the insurance card in or fax it as soon as they can so that the clerk can update the patient's information. Repetition of those questions is important. "Patients sometimes get frustrated," Ms. Craig recounted, "Some ask us why we keep requesting the same information every time they come in, often saying 'I was just here last week. You should already have that in your system.' We know that can be frustrating, but those questions help us ensure we have the correct patient lined up with the correct information in our system. Not doing so can result in all kinds of problems, ranging from compromising the safety of the patient to billing problems that can cause a lot of frustration for both the patient and the hospital. That old axiom of garbage in garbage out really applies to our front-line registration staff. Having the correct information right at the very beginning is vital."
She said her staff is trained to be tolerant and considerate with the public, no matter what. "Nobody wants to visit a hospital just for fun," Ms. Craig said. "You're here because you either have a medical condition that needs to be diagnosed or treated or seeing a family member who has been admitted. We understand and try our best to interact in a positive manner in all personal interactions."
Registration staff works with just about every department in the hospital. "We work with Rehab, Respiratory Therapy, Patient Care Unit, Stress Tests, Diagnostic Imaging, Laboratory, the clinics, Patient Finance, just about everything," Ms. Craig said. "That takes a lot of training to make sure we do it right every time. That's one thing I'm working on, is to standardize our training so that every staff member receives the same information. I'd also like to start seeing them shadow other departments, such as Patient Financial Services, so that they can see why getting the information correct up front in Registration is so important. Again, garbage in, garbage out is want we want to eliminate."
She said a new software system adopted by the hospital for admissions this past month will be a big help in making sure information is correct. "With this new system (called Relay), we'll know within 30 seconds if something is not right, from insurance information to whether their address is wrong," she said. "That's going to be a huge help in our department. It's already proven its worth." She added that her department and the hospital are also looking at another software system that will simplify insurance verification to just one step.
Ms. Craig loves the interaction with all the departments in the hospital. "Having that interaction lets me get to see how all the departments work and how important it is to work together," she said.
She and her husband Scott (a Carman for BNSF) are residents of Alliance and have six children (ranging from 18 to 22), three grandchildren and one on the way.
Box Butte General Hospital is an equal opportunity provider and employer.