DAVID BRIGGS HONORED FOR YEARS OF SERVICE
Renovation projects at BBGH smaller, but ongoing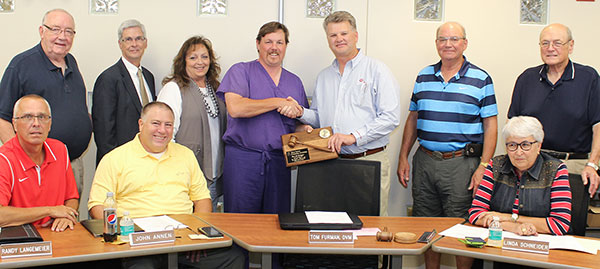 Longtime Box Butte General Hospital (BBGH) Trustee David Briggs, CEO of WESTCO, was honored Monday evening with a plaque, kind words, well wishes and of course cake for those attending to celebrate his years of service on the board, most of which as Chairman. He had tendered his resignation at the end of the June Trustees meeting.  A special part of the presentation was the attendance of many of the Trustees who served on the board with Mr. Briggs in the past. They were present to honor his tenure with Box Butte General Hospital and to the communities it serves through his steadfast commitment to improving health care services offered by the hospital for area residents. Mr. Briggs expressed his thanks to those present.
COO Jim Bargen was present to update the board about ongoing landscaping and interior renovations at BBGH. "We may have completed our major projects but that doesn't mean we're finished," he said. "We have a number of other smaller renovations occurring." Those renovations include landscaping improvements to the facility's grounds, including a new Peace Garden; smaller landscaping projects taken on by various employees; red river rock being placed around mechanical equipment and other areas, more grass sod being laid, and crushed concrete placed to the north for overflow employee parking. Interior renovations continue as well, updating the original hospital facility hallways to match carpeting and flooring of the new facility, as well as room renovations being made to improve working conditions for HIM personnel and others. Mr. Bargen added that a lot of little things that might not be noticed are also being done, including new LED lighting throughout the original facility that will substantially improve electrical usage efficiencies. Of note was the planned installation of a special walkway next to the Rehab & Wellness Center entrance incorporating different textured surfaces. The walkway will help provide rehabilitation patients a real world experience for challenges they may have when walking on a variety of different surfaces. After the presentation, the board made a few suggestions for further improvements, including the possibility of connecting the Fitness Center to existing walking trails in the city, as well as looking into outside visual improvements for PCU patients located on the east side of the new facility.
The board also conducted the following business.
They recognized Environmental Services Manager Yvonne Robertson for being named the July Employee of the Month and Pam Lawrence for obtaining her certification as a Medical-Surgical Nurse. Also recognized was the mammography staff of the Diagnostic Imaging Department for their successful accreditation after a recently held Facility Certification and Inspection (MQSA) survey. The board also welcomed new employees Shae Brennan, Promotion Specialist; Tracy Stark, Maintenance Tech; Kaitlyn Jespersen, RN; Stephen Schlickbernd, RN; Brittany Keane and Gabrielle Conley, Patient Registration Clerks; Debra Kromis, RN; Marcus Bradford, Cook; Jacquelyn Mach, Administrative Assistant; Tonya Hickman, Nursing Assistant/Ward Clerk; Bailey Smith, RN; Ashley Johnson, RN; Kaci Bryant, Dialysis Tech, Rebecca Connealy, RN; and Terry Kelley as new Plant Manager.
After unanimously approving the consent calendar, Chief Quality Officer Mary Mockerman used her Quality Management and Safety report to focus on Discharge Planning by the Special Services Department to improve hospital readmission rates. The current readmission rate for 2017 is 9.6 percent for all patient types and causes. The hospital wants to reduce the overall rate by 12 percent, or below 8 percent. To do so, she said discharge planning's goals are to identify and respond to patients' treatment goals at every point of care and determine patients' readiness to learn. A number of implementation steps were listed under each goal, ranging from identifying root causes of readmission to identifying barriers to self-care after discharge.
CNO Carolyn Jones had some good news to report to the Trustees, telling them a recent Basic Level Trauma Center Survey of the hospital's Emergency Department resulted in no deficiencies being found. "As far as I can recall, that is the first time we've had no deficiencies as the result of the survey," she said. The survey team specifically mentioned Emergency Department Trauma Coordinator Larry Steele, RN, for his leadership in making sure the department met survey standards.
After unanimously approving all credentialing requests, the Trustees adjourned at 7:50pm. The next board meeting will be held Monday, August 28, at 7:00pm in the Alliance Room. As always, the public is invited to attend.
Box Butte General Hospital is an equal opportunity provider and employer.