DIRECT DONATIONS SOLICITED ON 10TH ANNIVERSARY OF JANE'S CLOSET
10 years ago Jane Wineteer made a difference; one that is felt to this day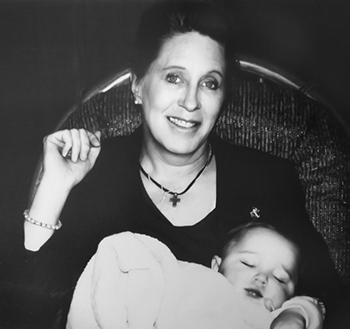 Box Butte General Hospital ran a story 10 years ago in August of 2007 about a co-worker who turned her battle with cancer into something positive that has affected many lives since then. Her name is Jane Wineteer. It's appropriate to use the present tense of 'is' when saying her name, because she lives on as the inspiration for Jane's Closet. Let's let a portion of that story speak for her and the friends who made her dream come true:
It's always hard to lose a friend, especially someone who spends five days out of a week at your side as a fellow co-worker. When it happens you want to hold on to memories and turn the loss into something meaningful.
Such was the case when Sandhills Family Center's (Editor Note: the predecessor of GNMSS Family Medicine) Jane Wineteer passed away in February of this year after a short battle fighting Inflammatory Breast Tissue Cancer, a rarer form of breast cancer that is very aggressive.
"Jane was diagnosed in March of 2006," her friend and fellow Coding/Billing employee Deb Moore recalled. "It all happened so fast."
Moore, Bette Gerlach and Rhonda Lyman were all visiting Jane one day, "when she commented on how much time she spent trying to find out what her options were in fighting this type of cancer, ranging from conversations with her doctor to phone calls and long Internet searches," Moore said. "And that's how the idea for Jane's Closet got started."
She and other friends of Jane wanted to provide a resource center for others diagnosed with the dreaded "C" word that would provide essential information in a variety of categories. "Jane spent a lot of time on her own trying to find out where to go, what her best options were," Moore said. "She didn't want other people to go through the same thing she went through trying to gather all of that." Jane felt so strongly about it, she had a portion of her life insurance benefit dedicated to establishing the Jane's Closet program.
A decade has passed and the help Jane's Closet has given to so many people diagnosed with different forms of cancer and their families has been extraordinary. Jane Wineteer's life insurance policy provided seed money to start Jane's Closet, with $3,423.00 donated. Add to that $119,914.32 donated from the generosity of area residents and  $123,337.32 has been raised since 2007.  Of that amount, a total of 228 assistance payments were made to cancer patients and/or their families in the amount of $44,250 from Jane's Closet to help defray care costs or travel/lodging expenses. Other benefactors include the Alliance High School with a donation of a breast test model for early detection of cancer totaling $630, and Box Butte General Hospital ($13,714) to upgrade their Mammography Workstation.
Also extraordinary has been the many hours of effort and volunteerism that has gone into raising money for Jane's Closet. The first three years had the following people spearheading the Jane's Closet project and annual September fund raising event: Jamie Wineteer, Lori Mazanec, Tracy Jatczak, Mary Goodell, Tracey Morgan, Hilary Gomez, Bette Gerlach, Deb Moore, Rhonda Lyman, Brittney Bauer and Sharon Groskopf.
The last six years had Williams' Jewelers owners Brad and Sue Williams and their staff doing a fantastic job hosting the annual event, raising as much as $25,000. Unfortunately, prior commitments have forced Williams Jewelers to end sponsorship of the Making a Difference event this year.
So in honor of the 10th anniversary of Jane's Closet, its committee members are asking area residents to make a donation in Ms. Wineteer's name. They can do so by making a check out to the Box Butte Health Foundation. Be sure to designate the donation to be applied to Jane's Closet. Donations can also be made online at by going here. When filling out the secure donation information, be sure to choose Jane's Closet in the Gift Designation field.  Donations are tax deductible. Those wishing to have more information about how to help fund the project with donations may call BBHF Director Brooke Shelmadine at 308.761.3079.
Box Butte General Hospital is an equal opportunity provider and employer.