PCU/OB Nurse Manager Jennifer Johnson, RN, BSN, enjoys new role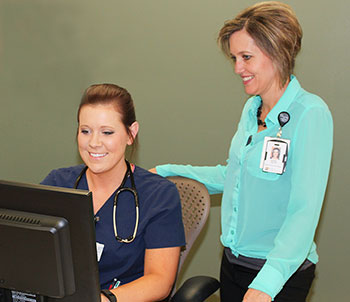 Box Butte General Hospital (BBGH) has a new Nurse Manager for the Patient Care Unit and OB staff, and she's enjoying her new role.
Jennifer Johnson, RN, BSN, has been employed at BBGH since February of 2012, first employed as the hospital's Cardio-Pulmonary nurse and coordinator. When the PCU/OB Nurse Manager position opened up, she thought it was a good opportunity and applied. "I've always seen my career going into management eventually, and when RN Traveler Darren Parks decided to move on, I decided to apply," she said. "It was nice that he was around as a mentor for a couple months after I got the position. He really helped me get up to speed."
Ms. Johnson has 40 nursing staff under her supervision. "We have a great team that has members who often step up and perform above and beyond their normal duties," she said. "We've had staff take extra shifts to help fill in positions, most recently helping staff our OB department when we were shorthanded and waiting for new travelers to come on board."
She has been very busy the past few months filling vacancies and getting her team fully staffed. "That's been a very large part of my routine these first few months, and I'm pleased to say we have had five new nurses start and will have another three more staring next week, so we'll be pretty close to fully staffed."
Ms. Johnson said she has two main projects she is focusing on. "Number one is to work on retention of our nurses," she said. "A big step in that direction was the recent upward shift of our compensation model from median to 60%. Another help is the second part of what we've been working on since I took over, which is going from a team nursing model to a primary nursing model. The team model had an RN and LPN assigned to the same patient. The primary model has the RNs and LPNs having their own patients. LPNs weren't doing a full head to toe assessment, now they are. They were great at reporting to the RN, and they still do that, but the RN is now responsible for just doing a focused assessment of the LPN patient once a day, plus having their own patients. Under the old system, we weren't utilizing LPNs as much as we should have been considering their training and expertise."
Another project she would like to start on soon is updating pediatric procedures. "Half of my professional career was in pediatric nursing and that is a passion of mine," Ms. Johnson said. "I'll miss that the most in my new role. I really want nursing staff to be more comfortable being involved with pediatric patients by working on those processes and spend more time with them with that aspect of care."
The duties of a Nurse Manager are numerous.  "I knew I'd have to do the staff scheduling and payroll reporting, and that's a big part of it," she said. "The hospital will soon be going to a computerized scheduling system instead of the written one we use now, which should really help cut down the amount of time managers have to spend writing all that out and keeping track of it. Under the computerized system, once a schedule is made, nurses will be able to trade shifts with other nurses when needed with minimum hassle." Onboarding new employees is also a large part of her duties. "There's all kinds of departments I have to notify when a new employee is coming onboard to make sure they have the proper authorization to properly do their jobs: access to Omnicells, diagnostic imagery, and lab results for example," she said. "I have to get keys for new hires and all the other things a manager has to do when onboarding a new employee. It's never ending."
Interpersonal relationships are something she also has to focus on in her new role. "That was a bit of a surprise for me, as I really never used my nurse manager in that capacity," Ms. Johnson said. "But with this many staff to manage, there are issues that arise. To be honest, it's kind of like parenting. I have had five boys in my household (and now three grandchildren), and you learn over the years what works and what doesn't. I look at my team members as family as well, and use those same skill sets I learned at home to help mediate issues. I get great satisfaction in being able to resolve them."
She, her husband David (a Senior Trainmaster for BNSF) and remaining sons living in the household reside in Alliance.
Box Butte General Hospital is an equal opportunity provider and employer.