Sally Bryner, APRN-BC, joins GNMSS medical staff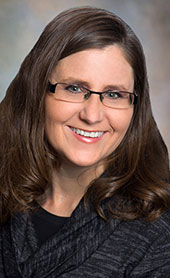 Greater Nebraska Medical and Surgical Services is pleased to announce that Sally Bryner, APRN-BC, has just completed her orientation and is now on the medical staff of GNMSS. She will begin seeing patients in Hemingford at the GNMSS Hemingford Clinic Thursday, September 28, and patients at the GNMSS Family Medicine Clinic in Alliance Friday, September 29. Ms. Bryner's patient schedule at the Alliance Clinic will be Tuesday, Wednesday and Friday. She will see patients in Hemingford every Thursday. Her addition to the Hemingford staff means residents in that community will have clinical appointments available five days per week every other week (with Dr. Jessica Ott's schedule of half days every other Tuesday).
Ms. Bryner is well known to the area, having started her career at Box Butte General Hospital (BBGH) in July of 2000 after completing her undergraduate studies for the Registered Nursing program at WNCC and through volunteerism in both Alliance and Hemingford.
BBGH CEO Lori Mazanec said, "It is very exciting to welcome Sally back to BBGH, this time at the provider level, to expand her passion for patient care. Sally has always been a superb employee, so it was easy to bring her on. Her dedication and compassion for staff and patients are truly one of her greatest assets and I am looking forward to seeing her build her practice at GNMSS."
Ms. Bryner earned her Registered Nurse license in October of 2000 after obtaining her Bachelor of Science in Nursing from the University of Nebraska Medical Center (UNMC) College of Nursing in Scottsbluff. Fourteen years later, she obtained her Master of Science in Nursing in May, 2014 from UNMC College of Nursing in Omaha and became Advance Practice Registered Nurse Board Certified (APRN-BC). A few months later she joined Alliance Family Medicine (AFM), before coming back to Box Butte General Hospital as GNMSS's newest Nurse Practitioner.
"Back in 2000, I started out on nights in the Patient Care Unit (PCU)," she said. "After a couple of years a position opened in the surgical department, so I worked in the PCU and the surgery department as well. I was PCU coordinator until 2006; then I went to Labor and Delivery in 2006 where I became that department's coordinator in 2011 until 2014 when I became an APRN-BC and went to AFM."
Her two years at AFM were well spent. "Dr. Tim Narjes was a wonderful teacher and mentor those two years and I feel he gave me a good foundation for starting my career as a Nurse Practitioner," Ms. Bryner said.
Coming back to the hospital by joining its GNMSS medical staff was a logical step in her career path. "I started my career at BBGH 17 years ago, and know the hospital's practices well," Ms. Bryner said. "The benefits are great and they are willing to help you with your continuing education. That's pretty big for me because I've always felt continuing education is important. BBGH has always been very supportive of staff wanting to advance their medical knowledge. When I expressed my desire to study to become an APRN, the hospital helped with my education costs through scholarships and the Rural Loan Repayment Program."
"It's always been my goal to be able to provide care for patients in a manner that didn't require me to wait on obtaining orders from a physician or non-physician practitioner," she continued. "When I was an RN, I would see patients for only a short time in either the PCU or in Labor and Delivery. Now, I get to know them and am able to learn much more about them and their medical histories. Being able to have a long term relationship with the patient and being able to do so without supervision is very satisfying."
Ms. Bryner has a special interest in pediatrics and women's health. "While I do have a special interest in those areas, I have to say I enjoy all aspects of being a Nurse Practitioner," she added.
While she has obtained her goal of being a non-physician practitioner, there is a frustration that comes with it, one most physicians and providers have. "As a medical provider, you want to do what is best for your patient, whether it's a test or prescribing a particular type of medication," she said. "But in today's environment, we often have to argue with the patient's insurance company to get them to provide coverage for it. That takes a lot of time … time that would be better spent doing what we want to do, which is providing the best care we can for our patients. That can get frustrating, but that's just the way it is now."
Ms. Bryner is looking forward to practicing in Alliance, as well as Hemingford, where her husband Dusty (Hemingford's Police Chief) and three children reside. "Dusty is a Hemingford native, and our children have always been students at Hemingford Public Schools," she said. The married couple recently moved to a rural setting closer to Hemingford because of their involvement in that community, not only in a professional capacity but also as volunteers, mostly in 4-H. Ms. Bryner has been a past member of the Box Butte County (BBC) 4-H Council, is currently a BBC 4-H volunteer (including being the BBC Fair 4-H Horse Superintendent and the "Bit N Boot' Horse Club leader). She is also a member of St. John's Lutheran Church Council in Alliance as its current Secretary.
Box Butte General Hospital is an equal opportunity provider and employer.