BBGH Accreditation Specialist Gail Burke's new job will keep her busy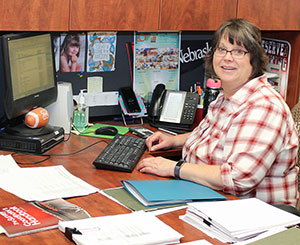 Healthcare facilities across the nation are swamped with governance, regulatory issues, accreditation certifications, licensing, risk and compliance rules; and rightly so. When it comes to providing safe and proper care for patients, adopting and consistently caring out best practices is a must. That's why Box Butte General Hospital recently decided they needed to create the new position of Accreditation Specialist to oversee those responsibilities.
"I was on the committee that was formed to develop the job description for the new position and after a while I really started to want to apply for it myself," said current BBGH Laboratory Manager Gail Burke, MT (ASCP). "After interviewing for the job, I was pleased to learn I was chosen for the position. Our lab has to go through a Joint Commission survey every two years, so I already had hands on experience on what was needed and how that process works. I also know how valuable those surveys are in making sure we have consistent and safe results in our lab work. I love that part of my job. Lab people are very precise, step-by-step people who know that accurate results demand correct procedures. With this new job, I'll be able to provide direction to our whole facility. I'm going to really enjoy that."
Her essential job functions are many and varied. Her six main functions (with several subcategories under each) include:
Facilitating and coordinating accreditation work, licensure, certification and survey functions with hospital leaders by overseeing ongoing preparation work and document review to assure compliance with regulatory agencies.
Evaluate education and training needs to improve the knowledge of The Joint Commission (TJC) and Centers for Medicare & Medicaid Services (CMS) requirements through educational materials and activities.
Chair the Policy Development Committee.
Establish mandatory orientation and annual education requirements and oversee and participate in processes to assure compliance.
Follow policies/procedures/regulatory requirements and perform other work assignments.
Live the organization's commitment to Patient Experience.
"While the catalyst for creating an Accreditation Specialist was making sure we are meeting all the rules and regulations required for accreditation by TJC every three years, my job will also entail all other surveys conducted, including Rural Health Clinic accreditation by CMS for our GNMSS clinics; TJC surveys every two years for the Laboratory Department; and the annual Food and Drug Administration (FDA) Mammography Quality Standards Act (MQSA) survey for our Diagnostic Imaging Department, to name a few," Ms. Burke said. "As stated, my job will also entail a lot of education and training to make sure staff consistently uses best practices for safe and effective care for our patients."
She said that what's she's been doing in her laboratory for years in her capacity as Laboratory Manager. "That's a big part of my job, making sure we meet those standards so that the lab runs smoothly. There is a reason those standards are there. They are there for patient safety and making sure we do the right thing every time. I love that part of my job and look forward to the opportunities to expand that passion in my new position.  I've already used resources from The Joint Commission to reach out to other departments with suggestions for resolving issues they may have. The feedback has been great. "
Ms. Burke, who began her career at BBGH in the Laboratory Department in 1983 and who became manager of that department in 2003, will continue in her role as Laboratory Manager for six months to a year while she trains the department's new co-coordinators Angie Valdez, MLS (ASCP) and Tyler Wagner, MLS (ASCP). "Once they're up to speed, I'll transition into my Accreditation Specialist role full time," she said.
Ms. Burke and her husband Tom are Alliance residents and have one child, Shelbee, 13.
Box Butte General Hospital is an equal opportunity provider and employer.