BBGH Environmental Services Department much more than 'housekeepers'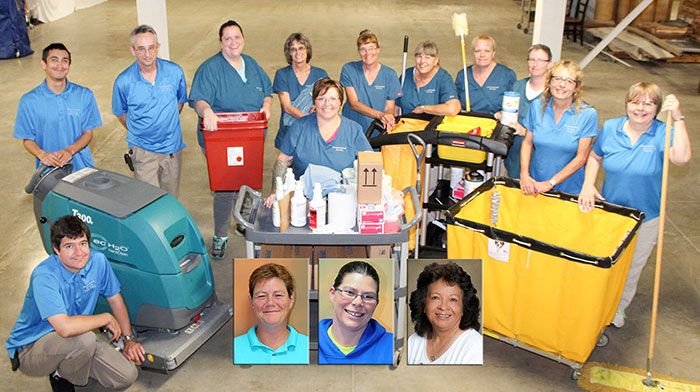 Way back, when Box Butte General Hospital was in its infancy, the Environmental Services Department (EVS) was known as "Housekeeping." Housekeeping in a hospital setting didn't accurately describe what the staff really did; Environmental Services does. "It's not like we sweep, pick up trash, make a bed," said EVS Coordinator Marilyn Abbott. "We do so much more than that."
EVS has grown from a department that had four "housekeepers" around 30 years ago to one that has 19 employees in its department when fully staffed, not including EVS Manager Yvonne Robertson.
Ms. Robertson said, "In recent years EVS has grown so much so that many are certified. We joined the American Hospital Association's Association for the Healthcare Environment (AHE) and through them there are many certifications that one can achieve." Some of the certifications include: CHESP (Certified Hospital Environmental Service Professional), CHEST (Certified Hospital Environmental Service Tech), CMIP (Certified Master of Infection Prevention), CSCT (Certified Surgical Cleaning Tech), and FAHE (Fellow of the Association for the Healthcare Environment). Ohio University has also added an environmental service program as a college course. "We do a lot of education for our staff so that they are knowledgeable in infection control, safety, chemical safety, and TeamSTEPPS, just to name a few," Ms. Robertson continued. "The EVS department plays a big part in our HCAHPS scores as part of the questions asked about the cleanliness of the hospital environment. We are just one part of the care and safety of our patients and visitors. So there are many advantages to our department that were not available before and anyone can make this a profession that they can be proud of. "
 "We've really grown over the years, especially the last few years as we expanded our facility," Ms. Abbott said. "We didn't have a night shift way back when, and hired four more when we started that. Then we started hiring floor techs, who focus on keeping all our tile and carpet floors clean; and when we built our new addition, we grew to our current number."
Ms. Abbott, EVS Coordinator for 15 of the 17 years she has worked at BBGH, and Mary-Ann Hartgrave, on the staff for 28 years, both said they and the teammates they work with are committed to providing as clean and sanitary environment as possible for patients and employees at BBGH. "From the floors to, in deep clean situations, the ceilings of our operating rooms, we disinfect and sanitize using best practice products in the proper way," Ms. Abbott said. "We have to learn how each product is used and follow those directions consistently."
EVS staff are divided into three categories: Floor Technicians, Environmental Services Technicians, and Laundry.
"Our first floor tech was hired about 10 years ago, when we officially opened the Medical Arts Plaza (MAP)," Ms. Hartgrave said. "We needed an additional person to focus on that. Then when we finished our expansion as well as the new Rehab and Wellness Center, we needed two more to handle that load. It takes three people to do the whole facility within a 24 hour period, with the help of our contract with the Office of Human Development (OHD), which provides additional manpower a few hours each day." Floor Technicians wash and wax tiled floors as well as vacuum carpeting, dust where needed, and clean windows. Being all males, they also help with heavy lifting.
Environmental Services clean all the departments: Emergency, Lab, Radiology, Dialysis, Patient Care Unit, Rehab & Wellness Center, all the clinics in the MAP building, Surgery, as well as all the public areas. "When we say clean, we mean clean," Ms. Abbott said. "We disinfect everywhere. For example, in the PCU we disinfect all the surfaces, both sides of the mattress, bathrooms, everything. When the room has been occupied by a patient with a serious infection who's gotten well and been discharged, we do a 'terminal clean.' When we do that, we have to wear gowns as we clean, and even wash and disinfect the walls as well." Surgical rooms also have walls and ceilings disinfected, along with lights, monitors and cables in a terminal clean. "We leave the equipment sterilization to specialists for that," Ms. Hartgrave added. The staff also cleans each patient room on a daily basis, always putting the needs of the patient first. "Whenever we go into a PCU room that is occupied, we ask the patient if it's okay if we clean their room at that time," Ms. Abbott said. "If they don't want us to at that time, we'll ask if it's okay if we come back later, and even then if they still don't feel well enough to have someone else in the room cleaning, we'll put it off to a later time. The patient always comes first."
Laundry Technicians focus on keeping all linens, from gowns and sheets to towels and blankets, clean and sanitary. "We have industrial grade washers and dryers specifically made for hospital use that get temperatures to the levels needed to sanitize them properly," Ms. Abbott said. "Anything that's what we call 'stained' laundry gets processed twice." Biohazard linens and material are kept separate for disposal, with an outside contractor picking up such material once a month and transported to a facility where they are incinerated.
As readers can imagine, cleaning in a hospital setting can be, well, messy. "We often have to deal with a lot of body fluids, and … I think I'll just leave it at that," Ms. Abbott said with a smile.
Asked what they enjoy about their work the most, the two both said their fellow workers and interaction with patients and families. "We have a great staff," Ms. Abbott said. "Knowing we're helping our patients and their families is also reward."
"Needless to say, the steady work, the benefits, all of that are nice as well," Ms. Hartgrave concluded. "It's a good job."
The current EVS staff has a combined 136 years of services at BBGH and will be celebrating National Environment Week Sept. 11through Sept. 15.
Box Butte General Hospital is an equal opportunity provider and employer.