BBGH receives NHA's Advocacy Team of the Year award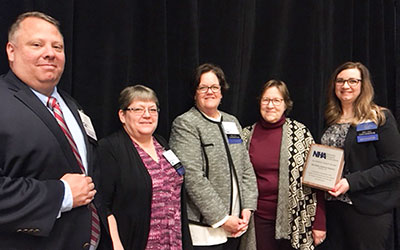 Box Butte General Hospital (BBGH) has long participated in the annual Nebraska Hospital Association (NHA) Advocacy Day event. Advocacy Day has representatives of hospitals from across Nebraska travel to Lincoln to visit with state and federal policymakers about issues that affect the quality of health care in Nebraska. This year's event was held Wednesday, March 7.
The BBGH team traveling to Lincoln this year was made up of Chief Executive Officer (CEO) Lori Mazanec, Chief Nursing Officer (CNO) Carolyn Jones, Chief Quality Officer (CQO) Mary Mockerman, and Patient Financial Services Medicaid Insurance Follow-up/Payment Specialist Deb Wegehoft.
Their advocacy efforts were honored by being named the NHA Advocacy Team of the Year. In making the announcement, Andy Hale, MPA, NHA's Vice President for Advocacy said, "As a leading health care organization in rural Nebraska, Box Butte General Hospital has created an outstanding advocacy team composed of several hospital leaders which has made it their mission to be strong advocates at the state and federal levels. Their involvement has helped policymakers understand how their decisions uniquely affect each hospital in our state. Their collective voice has heightened the awareness of our elected officials about the importance of the health care industry to Nebraska's health, wellness and economic development efforts. Through their leadership, they have built relationships with decision makers that will lead to a better future for health care in our state."
Ms. Mazanec said the award, "is true and timely recognition of the staff involved over the past year in influencing positive changes with Medicaid's transition to Heritage Health. Our voice has engaged other healthcare organizations to speak up, which shows the importance of being advocates for Nebraska's health. We value the work the Nebraska Hospital Association does on behalf of all member hospitals, especially regarding policy and with the legislative officials."
Box Butte General Hospital is an equal opportunity provider and employer.