SUCCESS STARTS WITH LEADERSHIP FROM THE TOP
BBGH Trustee John Annen brings civic and public service experience to board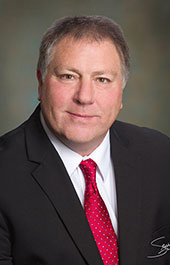 Editor's Note: This is the fourth in a five part series featuring the Trustees of Box Butte General Hospital. Each article in the series will begin the same, with the individual Trustee's biography and comments following.
Since its beginning in 1976, Box Butte General Hospital (BBGH) has been blessed with many community minded individuals serving on its Board of Trustees interested in making sure it achieves its mission to lead and innovate in healthcare delivery and community wellness. What's also important is having board members who have a wide variety of skill sets to bring to the table. The BBGH Board of Trustees currently sitting as the hospital's governing body is a great example of all the members who have served so well in the past.
The current members were each asked to provide personal information and to answer a set of questions to give the community a sense of who they are and a perspective of their motivations and experiences on serving as a Trustee for the hospital. The board is made up of five members. Here is the fourth member focus:
Name:  John Annen
Occupation: Central Office Technician
Employment: Hemingford Coop Telephone/ Mobius Communications for 23 years.
Years on BBGH Board of Trustees: Three years
John and his wife Carolyn ("She's put up with me for 28 years!") reside in Hemingford and have one daughter and three grandchildren.
His interests/hobbies includes trying to spend as much time as possible with the grandkids. "It seems as though we are always on the go to a ball game or something school related and with two girls there is always a lot of shopping!" He is an avid snowmobiler and tries to get to the mountains as often as possible.
Mr. Annen's Community Service/Organizations/Church activities include being President of the Box Butte County Ag Society/Fair board. He has been a member of that board for 20 plus years. Being on the fair board also brings an involvement with other activities, such as the Christmas Diorama, Harvest Moon festival and numerous other events. He is also Chairman of the Village of Hemingford Board of Trustees, serving on the Village board for 13 plus years. John and Carolyn are members of the United Methodist Church in Hemingford.
Q: What was the motivating factor for placing your name for consideration to serve on the BBGH Board of Trustees?
John: I think one of the main reasons for wanting on this board has to be the opportunity to be able to ensure that the community and its outlying areas have good quality health care at their front door. You don't have to drive to Colorado to get great care. You drive down the street; that is very important to me.
Q: What do you find most fascinating about serving on the board now that you've been on for a while?
John: All of the regulations that are imposed on the hospital. There is really nothing that happens that is not regulated in some way. Something most people don't know is that as you enter as a patient everything is regulated from how your ailment was treated to the amount of time it took for you to see a Provider, to how long you are able to stay in a bed at the hospital. The providers struggle every day to provide a balance of great care and to meet the obligations of all the regulations.
Q: What interests you the most as a board member?
John: Gaining insight into what is needed for good healthcare in the future. We need to be focused on not only what is happening now but five years to twenty five years down the road. Healthcare needs change every day. What we offer for services now may not be what is needed in the future. The industry is very dynamic. It changes daily and we need to make sure that we provide the very best services available to everyone now and in the future. I hope that when my youngest grandson is my age that he is able to receive the same quality healthcare as I do now.
Q: What is your vision for the hospital?
John: Being a hospital in such a remote area that has a population base so low is a very daunting task. Bringing good quality providers to our area is always a concern. My vision for the hospital is to be the destination for all healthcare period. How nice would it be to not have to go to Denver or Rapid City for treatment, but get the best care right in your hometown?
Q: Any comments about the hospital and/or its staff would be appreciated:
John: We have one of the nicest facilities around. But it is not the new hospital that makes this such a great place. It is the employees. If you have ever been in another facility you will know how special the employees are at BBGH. We are so fortunate to have each and every one of them; they are what make BBGH such a special place.
Box Butte General Hospital is an equal opportunity provider and employer.