SUCCESS STARTS WITH LEADERSHIP FROM THE TOP
BBGH Trustee Tom Cummings brings 32 years of business experience to board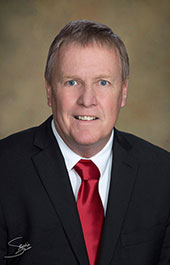 Editor's Note: This is the third in a five part series featuring the Trustees of Box Butte General Hospital. Each article in the series will begin the same, with the individual Trustee's biography and comments following.
Since its beginning in 1976, Box Butte General Hospital (BBGH) has been blessed with many community minded individuals serving on its Board of Trustees interested in making sure it achieves its mission to lead and innovate in healthcare delivery and community wellness. What's also important is having board members who have a wide variety of skill sets to bring to the table. The BBGH Board of Trustees currently sitting as the hospital's governing body is a great example of all the members who have served so well in the past.
The current members were each asked to provide personal information and to answer a set of questions to give the community a sense of who they are and a perspective of their motivations and experiences on serving as a Trustee for the hospital. The board is made up of five members. Here is the third member focus:
Name: Tom Cummings
Occupation: 32 + years with Parker Hannifin
Employment: Retired Businessman
Years on BBGH Board of Trustees: Three months
Tom and his wife Susan have three grown sons and two granddaughters.
His interests/hobbies include golfing, traveling and spending time with family. He has served on the YMCA Board, Box Butte Development Corporation Board, United Way and various committees at the United Methodist Church.
Q: What was the motivating factor for placing your name for consideration to serve on the BBGH Board of Trustees?
Tom: I believe it is vital for Box Butte County to have the best possible health care facility.  I feel with my background that I can contribute to this goal.
Q: What do you find most fascinating about serving on the board now that you've been on for a while?
Tom: I have only been on the board for a couple of months but I see that BBGH is a large and complex business that requires coordination from all areas of the organization and the medical community to run smoothly.
Q: What interests you the most as a board member?
Tom: I am currently on the Finance Committee.  This area interests me and I understand that it is critical that BBGH remain financially healthy.
Q: What is your vision for the hospital?
Tom: I would expect the hospital to continue to grow and continue to provide quality health care for the people of Box Butte County and the area.
Q: Any comments about the hospital and/or its staff would be appreciated:
Tom: All of the staff that I have met and worked with so far are professional, caring people who are committed to what they do.
Box Butte General Hospital is an equal opportunity provider and employer.