SUCCESS STARTS WITH LEADERSHIP FROM THE TOP
BBGH Trustee Tom Furman, DVM, MS, brings medical/professional experience to board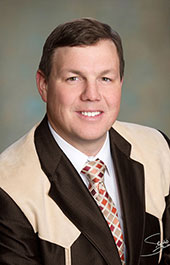 Editor's Note: This is the fifth in a five part series featuring the Trustees of Box Butte General Hospital. Each article in the series will begin the same, with the individual Trustee's biography and comments following.
Since its beginning in 1976, Box Butte General Hospital (BBGH) has been blessed with many community minded individuals serving on its Board of Trustees interested in making sure it achieves its mission to lead and innovate in healthcare delivery and community wellness. What's also important is having board members who have a wide variety of skill sets to bring to the table. The BBGH Board of Trustees currently sitting as the hospital's governing body is a great example of all the members who have served so well in the past.
The current members were each asked to provide personal information and to answer a set of questions to give the community a sense of who they are and a perspective of their motivations and experiences on serving as a Trustee for the hospital. The board is made up of five members. Here is the fifth member focus:
Name: Tom Furman, DVM, MS
Occupation: Veterinarian
Employment: The Animal Center (partner)
Years on BBGH Board of Trustees: Four years, current Chairman
Dr. Furman's professional activities and associations include: GNMSS Family Medicine Rural Health Clinic Advisory Committee, BBGH, 2012-current; BBGH Auxiliary Member 2014-current; Nebraska Veterinary Medical Association District 7 Vice President 2016-current; Nebraska Veterinary Medical Association Board Member 2012-2014; Nebraska Veterinary Medical Association member 2004-current; Academy of Veterinary Consultants member 2000-current; American Association of Bovine Practitioners member 2000-current. He was also named the Kansas State University Alumni Association Young Veterinarian of the Year in 2014.
Dr. Furman and his wife Stephanie have a son and daughter, ages three and five. Dr. Furman's interests/hobbies include cattle ranching, art, and cooking. He is also a member of the Alliance Kiwanis Club and American Legion.
Q: What was the motivating factor for placing your name for consideration to serve on the BBGH Board of Trustees?
Tom: I love Alliance and all of the Sandhills of Nebraska. BBGH is one of the life giving entities in this area. The new facility was being built at the time I first considered applying to be a Trustee on the Board and that was going smooth. However I am just as concerned about the healthcare providers in the area as the place they work. My main motivation for becoming a BBGH board member was to champion all of the healthcare providers. My main focus has been on doctor recruitment and provider retention. At the end of the day the people that work in the building are the most valuable resource.
 Q: What do you find most fascinating about serving on the board now that you've been on for a while?
Tom: Like most things there are a lot of moving parts (both metaphorical and physical) that need to be constantly tended to and maintained in order for the big entity (the hospital) to keep moving forward in a productive way and maximize patient's standards of care. Serving on the board allows the ability to see all of those moving parts and help maximize their efficiency.
Q: What interests you the most as a board member?
Tom: We have excellent providers both in the specialty clinic and in family practice. My main area of interest is to make life as easy for them to practice as I can and continue to aggressively recruit new talent to BBGH in an effort to keep up with the growing healthcare needs of the Panhandle of Nebraska.  
Q: What is your vision for the hospital?
Tom: See above!
Q: Any comments about the hospital and/or its staff would be appreciated:
Tom: All of the people that work under the BBGH roof are important! The people that practice medicine are the focus of a lot of conversation, but the people that continue to keep the facilities up and clean, as well as maintain the exercise center, health education, rehab areas, and the cafeteria are just as important. Clean facilities help to minimize nosocomial (acquired or occurring in a hospital) infections, education and exercise helps to prevent disease, and a good kitchen helps to keep everybody's bodies nourished!
Box Butte General Hospital is an equal opportunity provider and employer.