BBGH Trustees tour new Wellness Center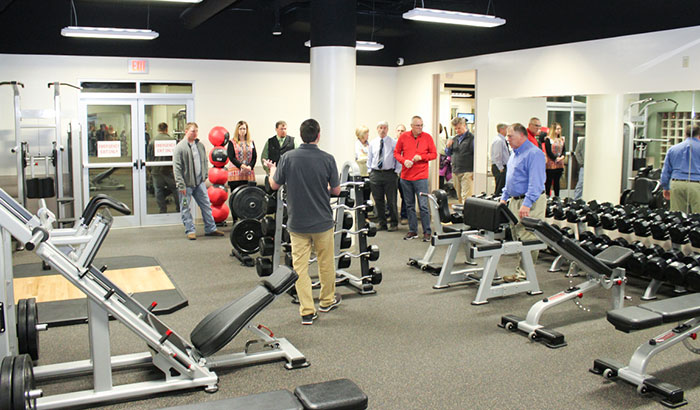 The Box Butte General Hospital (BBGH) Board of Trustees met Monday, February 27 and took a quick tour of the new Rehab & Wellness Center exercise area completed in mid-February. Wellness Coordinator Dan Newhoff showed the Trustees the numerous state-of-the-art exercise, cardio-vascular and free weight machines that take up most of the space. He also gave a tour of two large education and group exercise rooms, the cardiac rehabilitation area and pediatric rehabilitation room. He informed the board that along with the new facility members can use a new kiosk to check in electronically, making it much easier to track usage, as well as use an electronic fob to gain access 24-7. Those joining have to complete a brief orientation before using the equipment. He said the Wellness Center has added a personal trainer and attendant to staff during normal operational hours. It was later noted that BBGH will be hosting its 40th Anniversary Open House for the public Thursday, March 16 from 4:00pm to 7:00pm. Besides enjoying cake pops, cookies and refreshments, the public will be able to tour the new Michael F. Essay Sr. Specialty Clinic and the new Rehab & Wellness Center.
In other business, the Trustees recognized Diagnostic Imaging Office Manager Meg Craig for being the February Employee of the Month. They also recognized GNMSS Family Medicine's Jerre Mount, PA-C, for being named the 4th Quarter Provider of Choice and Britny Brass, MLT, for earning her Associates Degree in Health Science Laboratory Technology. New Employees introduced were Jim Bargen, Chief Operations Officer; Carl Gumby, Wellness Center Personal Trainer; Tim Aaneson, Wellness Center Attendant; Albert Urban, Environmental Services; Joe Salazar, RN, Lisa Mullen, RN; Faleh Alashqar, Lab Tech; Richard Hebara, Lab Tech; Jerri Nyffler, Cashier; Victoria Swanson, Radiology Tech; Heidi Iris-Tunheim, Nursing Assistant/Ward Clerk; Mindy Pfannenstiel, Purchasing Assistant; and Brigette White, Nursing Assistant/Ward Clerk
After unanimously approving the consent calendar and taking the Wellness Center tour, the Trustees heard from Chief Quality Officer Mary Mockerman who presented her monthly Quality Management and Safety Report. She focused on four subjects, the first being a 2015 and 2016 comparison of births at BBGH. She highlighted the fact that elective deliveries prior to 39 weeks gestation dropped from one in 2015 to zero in 2016, saying that is exactly where the hospital wants to be. Catheter Associated Urinary Tract Infections (CAUTI) rates went from two to four in 2016, with several possible causes discussed as well as Medicare readmissions, which trended a bit higher. She said while the trend was minor, the fact that it rose a bit indicates a need to monitor. She also pointed out that length of stays greater than 96 hours dropped from 16 percent in 2015 to three percent in 2016. Influenza is still widespread across Nebraska, with BBGH having six hospitalizations related to the flu. Ms. Mockerman said Influenza A is the primary cause of influenza in the region as well as the state, with some Type B present. The number of flu cases are exceeding the 2014/2015 levels. The next topic she discussed was a very informative surgical site infection surveillance opportunity when the state epidemiology office made a site visit to BBGH February 10. The purpose was to educate the hospital about root causes for surgical site infections and insights in how to mitigate infections. She concluded with a report that The Joint Commission was invited by the hospital to its Inter-cycle Monitoring Site Survey, being held February 28 from 8:00am to 4:00pm. She invited Trustees to attend anytime during the Survey.
Chief of Staff Dr. Tim Narjes was not present to give his report, so the board went on to the Governance/Strategy Focus agenda item. CEO Lori Mazanec informed the Trustees that the Western Regional Trustee Symposium will be held June 7-9 in Santa Fe, NM, and that a Quorum Health National Trustee Conference will be held in Nashville, TN August 2-4. She asked the Trustees to consider either one of the conferences as both provide a wealth of information.
CFO Emeritus Tracy Jatczak presented a resolution to authorize banking and investment institutions and authorize individuals to conduct those transactions. After discussion, it was decided to table the resolution to fine-tune it to be more specific in areas of procedure and authorization.
After unanimously approving all credentialing requests, the board entered executive session at 8:05pm to discuss legal matters. They re-entered open session at 8:37pm and immediately adjourned with no action taken. The next regular meeting will be held Monday, March 27 at 7:00pm in the BBGH Alliance Room. As always, the public is invited to attend.
Box Butte General Hospital is an equal opportunity provider and employer.