The Rehab & Wellness Center adds another Personal Trainer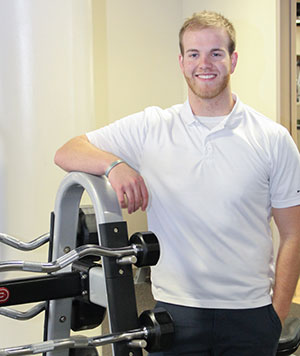 The Rehab & Wellness Center of Box Butte General Hospital (BBGH) has added another Personal Trainer to its roster, Tim Aanenson of Chadron. Mr. Aanenson has been a part-time employee at the Wellness Center since it opened in February of 2017. "I started as a Fitness Center Attendant and now I'll be part-time in my new role as a Personal Trainer," he said.  He joins current Personal Trainer Courtney Schnell, MS, CPT in offering clients 45-minute sessions in a variety of packages to fit most people's budget. Ms. Schnell became a full-time Personal Trainer at the Wellness Center in November with a daily schedule that is almost completely full.
Mr. Aanenson lives in Chadron and is a Junior at Chadron State College where he is majoring in Sports Management and Exercise Science.
His major in Sports Management will give him the skills necessary to manage resources and people. "My main focus is Exercise Science, which centers around human movement, how the muscles work, and how the parts of the body interact with each other to maintain or improve physical fitness. That fits in perfectly for being a Personal Trainer."
As such, he sees his role as a teacher in the proper use of exercise equipment and provider of knowledge that is evidence based and correct for his clients. "We all know you can find information about everything on the internet," he said. "The problem is, there is just as much information out there that is wrong as there is on what is right. It can take a lot of research to make sure you're using the proper techniques to reach the health goal you want. With a Personal Trainer, you don't have to do all of that research. We've got the knowledge you need, can assess what methods of exercise is best to meet your goals, and to top it off, we hold you accountable. That's an important part of being a Personal Trainer. Positive re-enforcement and having someone pushing you to achieve and gain a bit more in each session really helps."
He said he thinks his new position is a great stepping stone for his degree. But more importantly it's a continuation of his journey to a healthy life. "Working out has changed my life," Tim said. "I've lost over 50 lbs., so I have firsthand experience in the struggle of losing weight and maintaining it. I also know the path to take for seeing those results and the mindset needed for bettering yourself. I had a weightlifting coach in high school, Brooks Greene, who definitely showed me how having someone who knew their field of expertise can make a difference. He was a role model who helped change my life for the better. If I can do it, I know anyone can."
Mr. Aanenson's schedule will be every Monday, Wednesday and Friday from 2:00pm to 7:00pm and every Tuesday and Thursday form 5:30am to 8:00am. Sessions range from eight 45 minute sessions over four weeks to 24 45 minute sessions over eight weeks.
Box Butte General Hospital is an equal opportunity provider and employer.