BBHF Inaugural Golf Classic Lights Up Skyview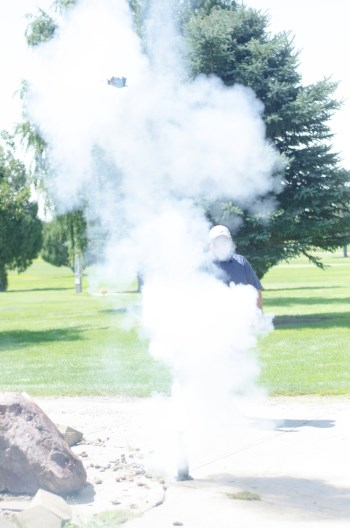 Saturday, August 11 at noon, if you were anywhere near Skyview Golf Course in Alliance you could hear a resounding "BOOM" (promptly followed by a car alarm). This sound, created by a firework, signaled the shotgun start of the Inaugural Golf Classic hosted by the Box Butte Health Foundation (BBHF).
The tournament received over $8,000 in proceeds, which will be used to cover expenses of The Rehab & Wellness Center of Box Butte General Hospital.
BBHF Director Brooke Shelmadine stated, "We are genuinely humbled by the turnout and generosity of staff, board members, volunteers, and participants. While we are thrilled with the dollars earned, the greatest victory was the spirit and camaraderie of the people. It served as a reminder of how important it is that we gather and celebrate our great health care facility, and our community."
Tournament participants enjoyed a variety of activities throughout the day. Participants were able to place 'bets' on numerous holes, and use the poker chips they won to 'buy' items from the Chip Store. A beverage cooler loaded with 'treasure' was also raffled off. Participants also enjoyed registration gifts, an evening meal, conversation, and drinks throughout the day. 
Box Butte General Hospital CEO Lori Mazanec said, "This event was such a great representation of the support we have across Nebraska and surrounding states. Seeing different vendors, medical providers, fellow employees, and community members take part makes me very proud to be part of such a great event. We are truly blessed to have the investment of those that participated and understand our mission to provide continuity and strength of service to the Rehab and Wellness Center."
BBHF hopes to host a bigger and better tournament next year. Shelmadine said, "We are already brainstorming ideas to build on this year's event. The hope is to grow this tournament into a special event that earns major dollars for foundation causes and gives us an opportunity to bring our staff and community together to celebrate on an annual basis."
Photos and videos from the tournament can be found on Box Butte General Hospital's Facebook page. http://m.facebook.com/BoxButteGeneralHospital/
Box Butte General Hospital is an equal opportunity provider and employer.