Clinical Informaticist Nurses a critical component for generating accurate Electronic Health Records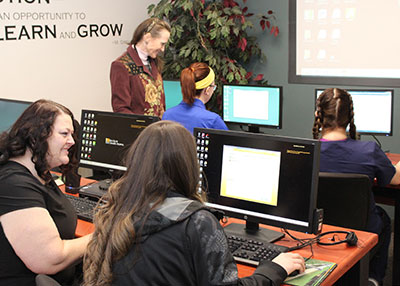 The days of writing down patient information by hand, from physician diagnosis/instructions on charts and recording of nurse observations to appointment scheduling and insurance coding, have long been a thing of the past. Computers and Information Technology superseded that long ago; becoming ever more intricate in implementation as government mandates on meaningful use and Medicare, Medicaid participation become more demanding. All of this is designed to improve health care via a combination of higher quality, higher efficiencies, and new opportunities for transparency that patients can access through Electronic Health Records (EHRs).
As a result, Health Information Technology (HIT) is a core component of hospital operations. And a core component of HIT is Health Informatics. The United States National Library of Medicine defines Health Informatics (HI) as "the interdisciplinary study of design, development, adoption and application of IT-based innovations in healthcare delivery, management and planning." To do that, HI deals with the resources, devices, and methods required for the acquisition, storage, retrieval, and use of information in health and biomedicine. HI tools include the use of computers, clinical guidelines, formal medical terminologies, and information and communication systems (software).
Sound complicated? It is, especially due to the fact that there are a variety of vendors in the nation that provide software support to achieve the goals mandated by the afore mentioned government and regulatory agencies.  That's where Clinical Informaticist Nurses (CINs) JaeAnn Bradt, BSN, RN and GayLynn Holthus, BSN, RN come in at Box Butte General Hospital (BBGH). JaeAnn has been a CIN at BBGH since 2012, with GayLynn joining her in April of 2017. The pair is responsible for the integrity of the hospital's Electronic Health Records (EHRs). "We are responsible for making sure that the end users have the appropriate tools in the EHR to do their job; record necessary information; and that the correct data is pulled for reporting to various entities," JaeAnn said. "That involves a lot of training," added GayLynn. "We assist end users in learning how to utilize the EHRs to the fullest extent they can; optimizing the integration of the flow of information from the bedside into the EHR."
Their job focuses on training clinical end users, such as providers, nursing staff, and ancillary staff by making sure they know how to use the system. "We don't train employees in Patient Financial Services (PFS) or Health Information Management (HIM)," JaeAnn said, "but we do work with them very closely in resolving issues that may arise from improper input on the clinical side."
The pair is also intricately involved in incentive programs instituted by the federal government, such as setting utilization levels of patients accessing their EHR records through their Patient Portal. "Everyone's eyes tend to glaze over when I go into that aspect of our job," JaeAnn joked. "But seriously, it's a whole new level of record keeping pressure for clinical staff, especially providers; that the proper use of EHRs is supposed to help alleviate."
When asked what drew them into becoming CINs, GayLynn said she's always been interested in informatics. . "I was drawn to Informatics when I went back to nursing school in 2003, and hoped to pursue it as a career full time," she said. "I've always had an interest in helping make it easier for providers to do their job. Record keeping is time consuming, and I enjoy doing anything I can do to make that aspect of their practice easier and faster to do." JaeAnn said, "I like to trouble shoot problems and figure things out; find out the reason why something isn't working and finding ways to fix that is always interesting. We get a lot of feedback from users. Sometimes it's just something they've overlooked or were doing wrong. Other times it's something that is an issue with our Centriq software and we have to contact our vendor to point out a flaw in their programming. Sometimes when they give us an update, that update breaks something else and we have to get that resolved by them." Input from clinical users is also valuable in finding ways to make something easier to input or find. "We can send that insight to our vendor, who has what they call a 'ballot box.' If enough users request that alteration in programming, then that change will be made enterprise wide," JaeAnn concluded.
With technology constantly changing in health care, it is safe to say that job security as a CIN is a lock for years to come.
Box Butte General Hospital is an equal opportunity provider and employer.