eStewardship program at BBGH targets proper use of antibiotics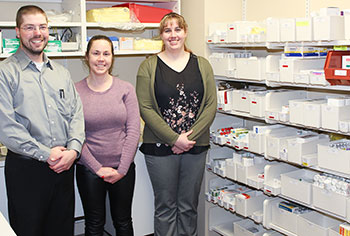 There is no doubt that, since the introduction of Penicillin in 1942 to treat infections, antibiotics have transformed the practice of medicine. Potentially lethal infections (such as staph infections) became easily treatable. Morbidity rates from surgeries dropped significantly, making such procedures much safer and routine for patients. The list goes on.
However, resistance to antimicrobial drugs (a general term that refers to a group of drugs that includes antibiotics, antifungals, antiprotozoals, and antivirals) has been a growing problem, much more so in recent years. The misuse of antibiotics, from over prescription by medical providers to patients not taking them as prescribed, has contributed to the growing problem of antibiotic resistance. The Centers of Medicare and Medicaid Services (CMS) has identified it as one of most serious and growing threats to public health. The Centers for Disease Control and Prevention (CDC) estimates more than 2-million people in the United States are infected with antibiotic-resistant organisms, resulting in approximately 23,000 deaths annually.
To address this, CMS now requires an Antimicrobial Stewardship Program of all health care facilities that have inpatient health care settings as a condition of Medicare and Medicaid participation. The Joint Commission has also released a new standard in 2017 that requires all hospitals and Critical Access Hospitals (CAH) to have Stewardship Programs in place.
However, many rural areas don't have access to a critical component of such a program: Infectious Disease Physicians. To address that lack of access, Bryan Telemedicine started offering a eStewardship Program tailored to the needs of all sizes of hospitals, nursing homes and long-term care facilities.
Box Butte General Hospital began using the eStewardship service in September of 2017, according to BBGH Pharmacy Manager Matt Pinneo, PharmD; Rachel Nerud, PharmD; and Rebekah Knudson, PharmD.  "While it's too soon to have measurable metrics on how the program has improved patient care outcomes at BBGH, we can say it's been utilized effectively," Pinneo said. "I'd say we've utilized it eight to ten times a month on average, with around 80 percent of the consultations resulting in some type of change or recommendation being made, from a recommendation to monitor the patient to a change in antibiotic, the dosage used, or the frequency of it being administered."
The eStewardship Program provides access to Infectious Disease Physicians 24/7/365. It also provides dose optimization and conversion; education for clinicians about resistance and optimal prescribing; identification of combination therapy for prevention of resistance; development of processes for streamlining and de-escalation of therapy; tracking and monitoring of antibiotic prescribing and resistance patterns; and quarterly reporting information on antibiotic use and resistance. Bryan Health eStewardship currently has two Infectious Disease Physicians and one Pediatric Infectious Disease Physician on staff.
"We've had one educational session so far," Pinneo said, "with more being offered as the eStewardship program develops. All of our providers at BBGH fully support the program, with consultations being made as needed. This whole program offered by Bryan Telemedicine is pretty new, so there are still processes being established that will become more fully developed as it matures." The educational sessions are provided by Academic Infectious Disease physicians and pharmacists who provide detailed explanation and education for each recommendation based on infectious disease guidelines. The education sessions are given to BBGH providers and pharmacists via videoconference and online content.
All three pharmacists have used the eStewardship program over the four month period it's been available at BBGH.
Box Butte General Hospital is an equal opportunity provider and employer.