Importance of patient follow-up discussed at BBGH Trustee meeting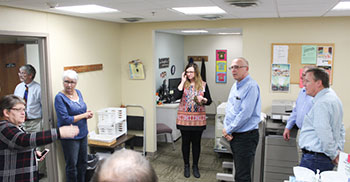 The Box Butte General Hospital Board (BBGH) of Trustees met Monday, November 27. The monthly Quality Management & Safety report given by Chief Quality Officer (CQO) Mary Mockerman sparked a discussion on how vital the hospital's patient follow-up procedure is in assuring the hospital receives feedback that helps improve the patient experience at BBGH. Trustee Randy Langemeier started the conversation when he asked a question about how the written Hospital Consumer Assessment of Healthcare Providers and Systems (HCAHPS) survey is conducted by Press Ganey Associates. Press Ganey provides patient satisfaction surveys, management reports, and national comparative databases for hospitals using its services. BBGH is one of those hospitals.  After it was explained how the HCAHPS survey is conducted, Chairman Tom Furman, DVM, added that while the written survey has its uses, the number of people taking the time to respond makes it hard to evaluate. "The percentage of those responding is very low, and that problem is experienced by hospitals nationwide," he said. "What makes it harder for us and other smaller hospitals is that our patient encounters are already low, which makes the number of surveys received even smaller. I've often stressed that, of even more value, is one-on-one interaction with the patients who use our services, from those who have a positive experience to those who have a negative experience. We're a small enough community to do that. I think that's the number one way to really get a feel of how the hospital is doing." Ms. Mockerman pointed out that the hospital has an RN (Patient Follow-up nurse Connie Drew), who's main duty is just that, contacting all members of the community who have recently had to use the hospital's services as an in-patient in the PCU, a percentage of patients who used the Emergency Department, and all those who had out-patient surgeries.  "Those patients are contacted by Connie," she said. "When she does her follow-up, if there is a patient that expresses a concern, she shares that concern with managers, who take that information and give feedback to the staff, or even call that patient." Dr. Furman commented it was also important how that personal contact is made, providing an experience he had with another hospital as an example: The person doing the follow-up call was almost like an automated voice, with no warmth or concern conveyed. At that point, Trustee Linda Schneider shared an experience she recently had at BBGH as an in-patient receiving her follow-up call. "The RN who did the follow-up went through a comprehensive list of questions I'm sure is asked to everyone she calls," she said. "She was very compassionate and encouraged me to share any concerns I may have had. I was very encouraged by that."
The Trustees also conducted the following business.
The Board congratulated Karen McLaughlin, LPN, GNMSS, for being named the November 2017 Employee of the Month. They also recognized Leah Delsing, RN, for recently receiving her Masters of Science in Nursing and Janelle Trickler, RN, for receiving her Bachelors of Science in Nursing. Ms. Delsing is a nurse in the PCU and has recently accepted the Nurse Educator role at BBGH. Ms. Trickler is a nurse in the PCU.
After unanimously approving the consent calendar, Ms. Mockerman presented the Quality Management & Safety report. Her report included the fact that the Nebraska Coalition of Patient Safety (NCPS) has named Gail Brondum as NCPS's Executive Director. She gave the September 2017 Reporting Committee Summary, which focused on eight protocols: 1) Oxygen, categorized as a medication. 2) In Hospital Transfer. 3) Patient Falls. 4) Medication Management. 5) Communication. 6) Metal Allergies. 7) CODES. 8) Surgery. Her report also gave The Joint Commission Accreditation (TJC) update. Concerning the September 20-22 Full Survey, an Evidence of Standards Compliance report was submitted. Additional questions from TJC were received and the hospital's response will be submitted this week.  A Medicare Deficiency Survey was conducted November 7, with all deficiencies identified during September survey cleared. One associated deficiency related to inaccessible dampers was cited, with the hospital on track to have that corrected prior to a January 9, 2018 deadline. She also reported that as of November 15 the state was reporting the incidence of influenza in Nebraska was categorized as Local, with two related deaths reported.  Reports of confirmed influenza cases are hitting about a month earlier than last year. All BBGH employees have received flu shots prior to November 1. Hand hygiene opportunities were also discussed, with hospital cadets involved in education efforts.
BBGH Chief of Staff Dr. Tim Narjes reported that patients who have expressed Do Not Resuscitate (DNR) requests will have those wishes tracked throughout the hospital via the use of DNR wristbands. He also said the Laboratory Department will be implementing improved testing techniques for Respiratory Syncytial Virus (RSV).
After going over and accepting the October financial report, the board took a quick tour of the hospital's recent renovation efforts for Health Information Management and Patient Financial Services Departments, as well as the new PBX.
The board then approved $25 for each employee meal provided during the annual Recognition Dinner to be held Friday, December 29.
After unanimously approving all credentialing requests, they set Thursday, December 21 at 12:00pm as the next regular meeting date and time due to Christmas falling on Monday, December 25. As always the public is welcome to attend.  The Trustees entered executive session at 7:59pm to discuss personnel matters. They reentered open session at 9:15pm. With no action taken, they immediately adjourned.
Box Butte General Hospital is an equal opportunity provider and employer.