Internationally known speaker/author Pete Smith has a question: Where do you stand?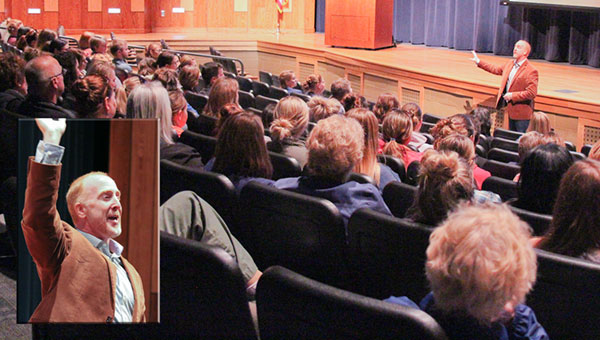 Internationally known speaker and author of the bestselling book "Dare to Matter," Pete Smith recently presented three programs about personal growth at the APS Performing Arts Center for Box Butte General Hospital staff and APS teachers. That message was delivered to 206 employees of the hospital and a number of teachers over the two day period. While it is usually hard to distill a presentation that lasts a bit over an hour into a few words, that's not the case with Mr. Smith. His whole message can really be distilled down to a question: "Where do you stand?"
That question frames most of his hour long talk. "I want you to ask yourself that question," he said to the morning crowd of 92 BBGH staff members who attended his first session. "I want you to describe to yourself who you are; what you know to be true about yourself. Distill it down to just one or two words. Then go out and use that to make your life significant."
Which brings the reader to the title of his book, "Dare to Matter."
Mr. Smith had a good life up to the year 2010. "I was happy with what I was doing before that year as an operation executive at a school for kids with disabilities," he recalled while being interviewed for this story. "I was doing fine. I had a great staff … everything was good. I was doing good work. I was doing okay. Then I had my stroke."
He recalls in his book that he was just finishing answering overnight e-mails at his home, when "all of a sudden, my legs started getting wobbly … I lost my balance … ended up on the floor … In the midst of frantically searching for but never quite finding an answer to what was happening, my mind quickly focused on something terrifying: A noise. I heard my body shutting down." He was convinced he was dying.
Obviously he's okay now, but in that moment of his stroke he had a revelation. "I was asking myself all these questions about my relationships with people … and all those questions centered around the question of … was my life significant," he recalled. "Not once did I consider whether or not I was successful. I didn't think about whether I was happy. Instead I thought about whether I was significant. Did I matter?"
As his web site says, "Pete has since used that experience to inspire, educate, and entertain audiences throughout the world on the importance of pursuing significance in their personal and professional lives. As he says, 'If you relentlessly pursue success and happiness in your life, you are settling for far less than what you were created for.'"
When asked what makes him different from other motivational speakers, he responded by saying, "I don't think of myself as a 'motivational speaker.' I don't want to be labeled in that way. The current culture has people asking, 'What's the point? What am I doing all this for?' We have more prosperity today than ever before, with more opportunity, yet more people are taking anti-depressants than ever before. Why is that? Maybe it isn't about 'if you achieve success you'll be happy.' Maybe it isn't about achieving happiness! People are looking at it all wrong. It's more than that. That's what I'm trying to get across in my talks; to let them know that beyond happiness is fulfillment by knowing who you are, and using that to make your life significant by doing things that matter. I try to give them the tools to do that. If they use those tools, that's their choice."
BBGH Patient Experience Ambassador Dede DeVeny, said, "Members of the Admin team and other staff who heard Mr. Smith speak at a Nebraska Hospital Association convention wanted to bring him here to Alliance so that our staff could hear what he had to say. His message is something we all need to hear in today's world."
Pete, his wife and two boys reside in North Carolina (they moved there just in time for Hurricane Florence). Oh, and he's also "a part-time chew toy" for their Irish Setter.
Box Butte General Hospital is an equal opportunity provider and employer.