Lonnie Grant named Physician Assistant of Year by Nebraska Academy of Physician Assistant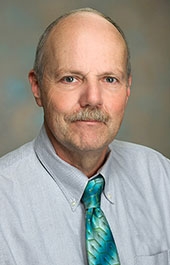 Lonnie Grant named Physician Assistant of Year by Nebraska Academy of Physician Assistant
The Nebraska Academy of Physician Assistant (NAPA) recently named Alliance Family Medicine's (AFM's) Lonnie Grant, PA-C, as its Physician Assistant of the Year. "I was totally shocked when they presented the award to me," Lonnie said.  All because one of his peers (Brittney Bauer, PA-C, practicing at Greater Nebraska Medical and Surgical Services Family Medicine) went to great lengths to keep it a secret until the award ceremony during the NAPA convention held April 5 in Kearney.
"Brittney's the one that had people I've worked with over the years write nomination letters to the NAPA," Lonnie said. "She really did a number on me. I usually sit toward the back of these ceremonies, so I can be one of the first to leave. But Brittney said she wanted to sit up front because a friend of hers was getting an award and she wanted to take a picture. So I said sure, why not. Then after we sit down, she said she had to use the restroom and to save her seat. Little did I know, she went outside and grabbed Hilary Gomez (Lonnie's LPN nurse) and Danica Breen (AFM's Dr. Tim Narjes' LPN nurse) to sneak them into the back of the award ceremony so that I wouldn't see them. She sits back down, and the presenter starts reading off the history of the person who was going to be named PA of the Year. I'm like, 'great, this is going to go on forever.' Then I start thinking, 'Hey … this sounds really familiar … Wait a second. That's me!??' "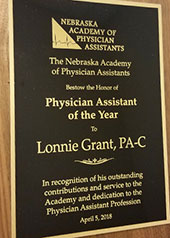 Lonnie laughed when asked if he gave a speech when accepting the award, saying, "Essentially I just said 'Thank you. I'd say more, but you've already sat through my whole life history.'  So yeah, I didn't say much. I was kind of speechless, mostly because of how shocked and embarrassed I was. But  I really am honored to have received this award after so many years, and I can't believe Hilary and Danica drove all the way from Alliance to Kearney to sit through an hour long ceremony, then drive all the way back. That was nice."
Lonnie began his career in medicine as a part-time orderly at an Alliance nursing home while still a junior in high school back in 1969. After a four year stint in the U.S. Navy, he obtained his LPN certification in 1975. He earned his RN certification in 1983 and then his Masters of Physician Assistant degree in Family Medicine in 1998.  He spent his years as an LPN and RN as a nurse in the Alliance area, first at St. Joseph Hospital, then Box Butte General Hospital and finally at Regional West Medical Center. His first couple of years as a Physician Assistant was at the Mitchell Medical Center (1998-2000). From there he went to Cody Medical Associates until 2003, when he was assigned to active duty in the U.S. Air Force. In 2004 he joined Sandhills Medical Center (now GNMSS), then joined AFM in 2012 where he practices to this day.
GNMSS Family Medicine's Sally Bryner, APRN-BC, was one of his peers Brittney asked to write a nomination letter. BBGH nurse Kendra Ash, LPN, was another, along with Hilary. All three had special memories or qualities they recalled in their years of working with Lonnie. Following are just a few of the comments they made in their letters:
Sally wrote, "I cannot tell you how many times I have heard his patients say, 'I just love Lonnie,' or 'I don't know what I am going to do if Lonnie ever retires… he's so great.' His patients do truly trust in him and enjoy him as their provider… Lonnie has a one of a kind, true heart and I believe that his patients know this."
Kendra, who was Lonnie's nurse the many years he practiced at the GNMSS Hyannis Clinic, wrote, "Since Lonnie started from the bottom and worked himself up the ladder (of nursing) by hard work, determination, with many family sacrifices, he is always understanding of the 'way nursing is' and has always been compassionate and understanding with the different levels of healthcare … I worked by Lonnie's side in a very small Rural Health Clinic … Lonnie's devotion and understanding of rural areas made him very popular and loved in that community."
And finally, after praising his good work while at AFM, Hilary wrote, "Lonnie is not always serious. He is very funny and likes to joke around and have fun. He refers to me as 'Hilga,' his German nurse. In fact, we have some patients that believe my name is Hilga instead of Hilary because of that. I believe Lonnie deserves this year's distinguished title of Nebraska's Physician Assistant of the Year for all his wonderful qualities and excellent health care he's provided his patients during his career.  He's been a blessing to work for, and I've learned a lot from him."
Box Butte General Hospital is an equal opportunity provider and employer.