Meet Luke Senden, Box Butte General Hospital's new CFO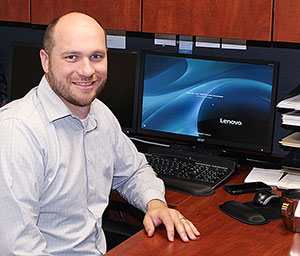 Spearfish, SD native Luke Senden, MBA, has been on the job now as Box Butte General Hospital's (BBGH) new Chief Financial Officer (CFO) for three weeks now. What he's experienced in the short time has convinced him his first impressions were spot on. "My wife (Nicole) and I came a day early for my interview to get a feel of Alliance and see what homes were available," he said. "We drove around town, visited some of the shops, and ate at a couple restaurants. We both loved it here and thought it would be a great place to live if I got the job." He did and the past few weeks have cemented that first impression. He was informed he was hired for the position after four separate interviews: one over Skype, the second with the Administration Team, and the third involving members of the Finance Department and the fourth was with managers of the finance division. "It was just a few days after the last interview that I got the call telling me I was hired," Luke said. His first day at BBGH was April 30.
"The second week I was here was Hospital Week; I was able to attend several of the events and enjoyed meeting staff from different departments." Luke said. "It gave me a chance to see how everyone interacted and how much fun they had with each other. I'm looking forward to being part of that team spirit."
After graduating from high school in Spearfish, Luke enrolled at Black Hills State University in 2007. He later joined the National Guard in January of 2009 and transferred to the University of Wyoming after completing his National Guard training. He was assigned to a tour of duty in Bahrain and served as an M.P. while stationed there. "When I got deployed I transferred to Liberty University to study online due to that commitment," Luke said.  "I obtained my Master's in Business Administration from Grand Canyon University using their online courses as well."
He was hired by Greeley County Health Services (GCHS), a Critical Access Hospital (CAH) in Tribune, Kansas in November 0f 2014 in the accounting department, leaving the National Guard the following year. "I took over as the CFO there in May of 2016," Luke said. "In that capacity I was part of the team that developed the financing requirements for a $13.7 million remodeling project for the hospital; going out into the community and explaining why it was needed and how it would be funded through bonds." The effort was successful and the hospital is in the midst of the project now. He was also instrumental in increasing GCHS's cash on hand from 28 days to 73 days. Why is the cash on hand improvement impressive? Tribune, the community GCHS is located in just a few miles from the Colorado border, has a population of around 900, in a county with a population of 1,200. So yes, that's impressive.
Medicaid and some commercial payer's reimbursement levels vary from state to state. "Medicaid reimbursement rates aren't that great no matter what state you operate in, but Kansas's levels are lower than Nebraska," he said. "Coming here and working at a facility that's as financially sound as BBGH is nice."
Recently retired CFO Tracy Jatczak was able to work with Luke during his first few weeks on the job. "That was very helpful and I'm glad she was available," Luke said. Now that he's had a chance to go over the books of BBGH with Tracy, he was asked how he'd characterize the financial state of BBGH. "Oh gosh .. I could fill out this whole interview on what I think," he said. "Long story short, what I've seen shows how impressive this CAH has been over the years since it obtained that status. The financial position and the cash reserve on hand, both at such a high level, are pretty impressive. That doesn't happen overnight. It takes a long time and proves to me that the administration team here at BBGH is committed to its mission to the community. It also shows the legacy Tracy is leaving behind … how well maintained and organized everything is. It's been a treat to learn from her these past few weeks."
As CFO, Luke will oversee the Finance, Patient Financial Services, Purchasing, Health Information Management and Admission Departments.
CEO, Lori Mazanec said "I am just as excited to have Luke and Nicole in the community as they are to be here. They are eager to become active members of Alliance and call this 'home.' Anytime I get the opportunity to recruit fresh, young couples to the hospital, it is also beneficial to the community when they are ready to get involved."
He and Nicole have found a home in Alliance and will be moving in as soon as they close on it. Nicole is an elementary teacher, but a happy event will mean she will be at home for a year or so. "These next few months are going to be interesting," Luke concluded with a smile. "We are expecting our first child and the baby is due in late August … right in the middle of our audit."
Box Butte General Hospital is an equal opportunity provider and employer.