New BBGH Dialysis Unit machines enhance patient safety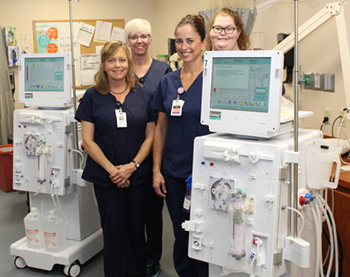 New BBGH Dialysis Unit machines enhance patient safety
The Box Butte General Hospital (BBGH) Dialysis Unit staff is excited about the new machines they recently started using for their patients. "These machines are more efficient, reliable, easy to use, and even though they have so many additional features they are actually more basic in design," said Dialysis Unit Nurse Manager Kailee Kelly. "Our older ones had many different parts and electronics; which meant they were harder to maintain. These new ones are more durable and dependable."
The new machines are B.Braun Dialog Plus Evolution models (see photo).
"They are amazing in what they can do," Ms. Kelly said.
The units have new Dialyzers that retain albumin in the patient. Albumin is the main protein of blood plasma. Older dialysis machines actually removed albumin, while these will allow the patient to maintain their albumin levels. One design change is the use of airless lines, which use less heparin (a blood thinner that prevents the formation of blood clots) and decreases risk for air in lines.
"Another feature that is cool is the fact that Rx cards are now used," Ms. Kelly said. "Each patient's pre-loaded dialysis prescription is encoded onto the cards for direct input into the machine. It's like an ATM card. The doctor tells us what the prescription is through the pre-loaded card. They can also be updated at any time by the charge nurse or the physician."
An additional upgrade includes Ademia (Adequate Dialysis Measurement) in real time. "That is a huge bonus," she said. "This is continuous monitoring and display of the dialysis effectiveness during the patient's hemodialysis treatment. The system utilizes spectroscopy for the measurement of substances removed from the patient. We can actually see how well we're cleaning the blood, measuring it in real time so that we can do an intervention during the session if needed, making sure we're giving them the best treatment we can."
The older machines had just a few profile options available during dialysis. "These new machines provide several different profiles options, with 23 different ultrafiltration profiles for fluid removal," Ms. Kelly said. There are also five additional profiling options available to include temperature, sodium, bicarb, dialysate flow, and heparin.
"Another difference with the new machines is the fact that they use inflation instead of deflation to measure blood pressure," she added. "This results in faster more accurate readings, while being more comfortable for the patient," she said.
"All of these new features mean safer and better care for the patients we serve," Ms. Kelly concluded. This is just one of the many ways Box Butte General Hospital is enhancing services for an excellent patient experience.
Box Butte General Hospital is an equal opportunity provider and employer.