NHA honors Nebraska hospital employees with "The Caring Kind" award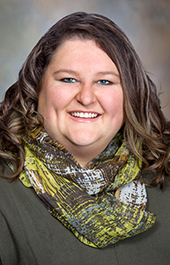 LA VISTA, NEB. — The Nebraska Hospital Association (NHA) recognized 66 hospital employees October 27, 2017, for their excellence in service by bestowing them with the organization's prestigious "The Caring Kind" award. Among the awarded was Amber Smith, Radiology Technologist of Box Butte General Hospital.
For 38 years, The Caring Kind award has been given to Nebraska's most caring and compassionate hospital employees. The award honors outstanding health care employees who have demonstrated compassion for patients, cooperation with co-workers and dedication to excellence in their job responsibilities.
"It is such an honor for me to meet The Caring Kind award recipients each year.  They demonstrate the kindness, caring, dedication and commitment to their hospitals which is why they were awarded this recognition," NHA President Laura J. Redoutey, FACHE, said.
Smith said, "I am honored to be nominated, receive, and represent BBGH for this year's Caring Kind Award. It was a wonderful experience of which I will forever be grateful to be a part of."
Smith was nominated by a coworker who said, "Amber Smith is an exceptional employee in the Diagnostic Imaging Department here at BBGH. She has gone out of her way to fix artifacts in the MRI room in order to ensure high quality images for our patients. Amber constantly takes calls while off-duty to help with machine problems and answer questions about exams. She is competent in five different modalities in our department. She is constantly hopping from one to another, and also helps with the front desk operators. As a new employee Amber has been a great reference for our department. Amber also serves as the student mentor viewing exams, patient care, and all other responsibilities of their training. She is always positive and excellent with patient care."
Hospitals across the state each select one The Caring Kind award recipient from within their respective institutions to be recognized during the NHA Annual Convention.
More than 2,400 caring, skilled and dedicated health care professionals have received this award since its inception in 1979. This year, 66 employees were honored before nearly 500 people in attendance at The Caring Kind Awards Luncheon held at Embassy Suites Omaha-La Vista Hotel & Conference Center in La Vista.
The event showcases the exemplary work and care hospital employees provide every day throughout the year. Every Nebraska hospital employee plays a critical role in providing high-quality, cost-effective treatment and ensuring the safety of themselves, their co-workers and patients each and every day.
These honorees are star performers through their dedication to patients and teamwork, ensuring that care is safe, quality-driven and cost-effective for consumers, as well as for the organizations they represent.
Box Butte General Hospital is an equal opportunity provider and employer.
The Nebraska Hospital Association is the unified voice for Nebraska's hospitals and health systems. The association offers collaborative leadership, assisting its members to provide comprehensive care to their communities, improving the health status of those communities. For more information, visit the NHA website at www.NebraskaHospitals.org.