Physical Therapist Angela Jones newest member of The Rehab & Wellness Center team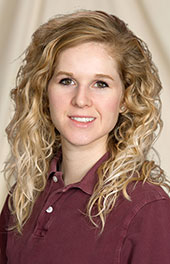 Wright City, Missouri (MO) native Angela Jones, PT, DPT, ATC is the newest Physical Therapist to join The Rehab & Wellness Center team at Box Butte General Hospital (BBGH). She started her practice here in May.
After graduating from Wright City High School in 2010, she went to Central Methodist University in Fayette, MO for her undergraduate studies. After obtaining her Bachelor of Science Degree in Athletic Training in 2014, Ms. Jones went to Southwest Baptist University in Bolivar, MO, earning her Doctorate in Physical Therapy in 2017. She said the Physical Therapy program at Southwest Baptist focused on clinicals in the third year. "That's where it got exciting, being able to finally get out there and start working with patients," she said.  She then worked at a private practice for a year in St. Louis, MO, before coming to BBGH. "I have known I wanted to be in physical therapy for a long time," Ms. Jones said. "I am excited to continue my career here at BBGH."
Ms. Jones likes all aspects of physical therapy. "I like working with patients of all ages," she concluded. "I'm enjoying the in-patient swing bed experience. There's variety here. It's very rewarding to see someone gain more independence. Being a part of this interdisciplinary team and system here at BBGH is rewarding. It's a great facility."
Ms. Jones resides in Alliance. To relax, she enjoys watching sports and reading.
Rehab Manager Tim Devlin, PT, DPT, SCS, CSCS, is excited to have Ms. Jones as part of his team. "I think she brings a passion and excitement for providing services to our rural community," he said. "I am also looking forward to having her be a part of our sports rehab team with her background as a certified athletic trainer. She will be assisting our other therapists in covering sporting events and treating our area student athletes throughout the sports season. "
Box Butte General Hospital is an equal opportunity provider and employer.