Sarah Lunbery named BBGH 2017 Employee of the Year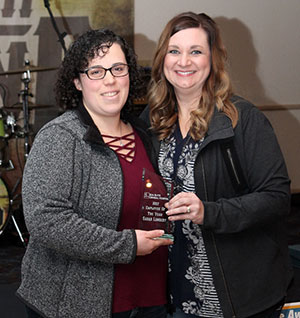 Box Butte General Hospital (BBGH) Obstetrics nurse Sarah Lunbery, BSN, RN, was named the hospital's Employee of the Month in April of 2017. She topped that distinction Friday, December 29 at the hospital's annual Recognition Dinner when it was announced that the employees of BBGH had voted that she be named the 2017 Employee of the Year.
Ms. Lunbery is a rock star and an awesome co-worker.  She is a fair, honest, and an awesome patient advocate; exemplifying excellence by always doing her best.
Sarah was a non-traditional student with her degree obtained while juggling work, school, and family life.  She has always been an excellent student in the classroom, in life, and is able to share the knowledge she has gained to help others. She is willing to step in and help other departments when needed.
Sarah communicates with Respiratory Therapy very well and is always there when needed by that department. She is dedicated to lifelong learning and devotion to her chosen career.  She is always there for her team, her patients, and provides amazing patient education.
Sarah is an excellent team player and always willing to help, learn, and try new things.  She also treats everyone with the same respect; from aides and co-workers to patients and their family members. She is the kind of employee everyone should strive to be.
Sarah excels at everything she sets her mind to and lends a hand wherever she is needed. She exemplifies the mission of BBGH by putting patient safety first; her willingness to help co-workers; and her seeking out opportunities to learn new skills.
Her peers in the Patient Care Unit consider Sarah as one of their brightest employees; one that is truly a selfless person who never complains when days are hard (Sarah has since transferred over to the Obstetrics Department)."
Congratulations Sarah on being chosen by your peers as the 2017 Employee of the Year!
Box Butte General Hospital is an equal opportunity provider and employer.