Sleep studies can save and change lives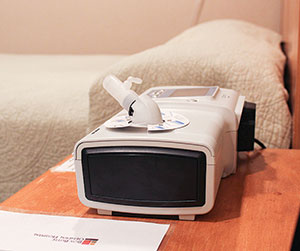 Since 2006, Western Sleep Medicine has been providing sleep studies services at Box Butte General Hospital.
Sleep studies can be completed after a doctor's referral to Western Sleep Medicine and Registered Polysomnographic Technologist Mark Schultz.
Before he worked in sleep studies, Mr. Schultz said he had a sleep study done where he was diagnosed with severe obstructive sleep apnea. He said he believes the diagnosis may have saved his life, and it generated his interest in sleep studies.
According to Mr. Schultz, a sleep study is simple and consists of pre-test education and a night of monitored sleep at a sleep study location.
Mr. Schultz described a sleep study as a snapshot of a person's night and life. He said a number of different parameters including different levels of respiratory, brainwaves, leg movements, and breathing patterns are monitored. The information gathered can help determine if the patient has one of over 60 different types of clinical sleep disorders.
Mr. Schultz said sleep apnea is the most common clinical sleep disorder.
"It is a really complex breathing disorder," Mr. Schultz said. "It's not just about opening a patient's airway with humidified air. It's about making someone's sleep the best it can be."
Western Sleep Medicine performs sleep studies on men and women with various body types as well as on children, generally six years of age or older.
"I get most excited about seeing more and more kids in our sleep labs. They are able to come in early in their life and get this figured out," Mr. Schultz said. "Children who are sleep deprived become hyperactive, where adults get lethargic. Sometimes children who are hyper and inattentive are suffering from sleep disorders rather than behavior disorders. A sleep study can help determine if that is the case."
Mr. Schultz said the public's education about sleep and sleep disorders is growing. The importance of having a sleep study is that it does, in fact, have the ability to change lives for the better.
"People adapt to function as a sleep deprived person, and they don't have to. When you are sleep deprived, you are limiting your abilities," Mr. Schultz said. "There is a whole bright world out there that people are just wading through half asleep. So every patient we get to work with, we have the opportunity to change their lives."
Common symptoms for sleeping disorders include snoring, high blood pressure, being overweight, waking up with a headache, cardiac problems, depression, and just being tired and drowsy during the day.
Mr. Schultz and the late Mike Kearns started Western Sleep Medicine in 2006 with the first services located in Scottsbluff. It has grown to 12 different locations throughout Nebraska, South Dakota, and Wyoming.
Dr. Norman Imes, MD, has been the Medical Director of Western Sleep Medicine since its inception. Schultz's daughter, Brittany Meyer, MD, completed her sleep fellowship at the Stanford School of Sleep Medicine and is the Medical Director of ProHealth Care Sleep Center in Delafield, Wisconsin. Dr. Meyer will be joining the Western Sleep Medicine team and serving BBGH within the next year.
Mr. Schultz said he has always been proud to be part of the BBGH entrusted.
"BBGH stands for excellence. It may not be the biggest hospital, but they are always among the best service providers," Mr. Schultz said. "They are about excellence and so are we."
For more information about sleep studies, call 308.762.4357, Ext. 3489 or Ext. 3342.
Box Butte General Hospital is an equal opportunity provider and employer.