Steve Boyer, MD, brings 27 years of Family Medicine experience to Greater Nebraska Medical & Surgical Services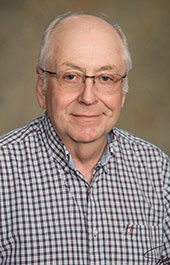 Alliance's Greater Nebraska Medical & Surgical Services (GNMSS) Family Medicine welcomes its newest primary care physician Steve Boyer, MD. Dr. Boyer started seeing patients April 11 at the clinic. He will be practicing three days a week, Wednesday, Thursday, and Friday.
"I am excited to bring Dr. Boyer to Alliance, Box Butte General Hospital (BBGH) CEO Lori Mazanec said. "He is very passionate for healthcare and has expressed his enthusiasm to be here as well. His breadth of knowledge will be beneficial to our young practitioners and he is open to sharing his experiences with them. The providers share my excitement knowing it brings another physician into the practice to expand our access to patients."
Dr. Boyer's medical career spans 27 years, all of them in the Sandhills region. He graduated from high school in Mullen, NE, in 1974. After obtaining his Medical Degree in 1988 from University of Nebraska Medical Center, he moved back to the Sandhills, starting his medical career at Gordon Memorial Hospital and Clinic from 1991-1992. After completing his Family Practice Residency at UNMC in 1992, he established Sandhills Family Medicine in his hometown of Mullen, practicing there with his wife, Margaret, who is also a physician. He also practiced at Regional West/Garden County Hospital and Clinic from 2014 until 2017.
Dr. Boyer is a Diplomate of the American Board of Family Medicine and Fellow of American Academy of Family Physicians.
"I was actually hesitant to start a practice in Mullen," he recalled, "knowing everyone, from family to friends. But my wife, from South Omaha, had ridden through the community a year before starting medical school. She and a friend had decided to take two saddle horses and two pack horses all the way to Bozeman, MT. She really liked the Mullen area when she went through. So there we are to this day."
The couple owns and lives on a ranch near that community. "I grew up on a 10,000 acre ranch my dad ran, so it's in the blood," he said. "My wife and I bought a ranch about 20 years ago. It's a small operation. We don't run cattle on it anymore. But we still love to ride.  We've got seven horses and Margaret enjoys breeding them, getting better horses all the time."
When asked why he chose Box Butte General Hospital to practice at, Dr. Boyer said, "Frankly, it's a great facility. Finances are strong here, when there are other hospitals struggling in this new health care environment we're in," he said. "And the new facility just built is great. I hadn't been to Alliance in a while and when I drove up and saw the new building it truly impressed. And of course, there are the people. Those that I've met at BBGH are friendly and welcoming." The fact that GNMSS specialists are comfortable doing most, if not all, their procedures here instead of shipping patients out to their home facilities says much about BBGH and the medical support staff. "That shows the specialists practicing here have a lot of confidence in the facility and its employees," Dr. Boyer said.
His nearly three decades of providing primary care for patients hasn't dulled his passion for medicine. "I've always enjoyed treating all ages of patients, especially in preventative medicine and am looking forward to providing that service here," he said.
When asked about the changes in medicine he's seen over the years, Dr. Boyer said, "Of course the insurance issue is much more burdensome now than before. And there's a lot more emphasis by younger health care providers on the need for family time. That's a good thing, and I'm glad the hospital is looking for a Hospitalist. I understand the issue of control. It's hard for a physician who has practiced that way for years to give that up. But the younger doctors coming out of medical school today want the free time. That's a good thing, too. It mitigates fatigue and burn out rates in the profession."
Dr. Boyer, a history buff, will stay in Alliance at a rental house the three days of the week he will practice here, then travel back to Mullen when off. The couple still operates Sandhills Medical Center, with Dr. Boyer practicing one day a week and his wife the rest. "The community has a nice 30 bed nursing home, and we have a great volunteer EMT team there as well. So we want to keep that going," he concluded.
Box Butte General Hospital is an equal opportunity provider and employer.