This over 90 age trio is an inspiration to Rehab and Wellness Center members and staff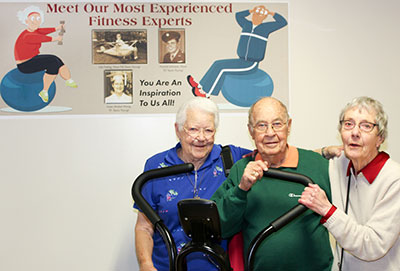 Exercise is hard. Always was, always will be. But the benefits of exercise (health, stamina, improved movement and preventative management, to name a few) are long lasting. A person has to look at the long term benefits. Just ask these three individuals who, all over 90 years young, were recently celebrated for their dedication to exercise: Sister Mabel Meng, 91; Harold Johnson, 92, and Lila Fiebig, 94. A surprise "birthday party" was held for them Thursday, October 26 at the Rehab & Wellness Center with around 100 people attending. Food, drink and conversation were enjoyed by all.
Asked why they do it, they all responded in their own way that they know exercise is what is keeping them healthy and mobile. "I've always been active," Mrs. Fiebig said. "But I really started exercising around nine or 10 years ago when my husband Glen's doctor urged him to go to Cardio-Pulmonary Rehabilitation at Box Butte General Hospital (BBGH) for his heart condition; not mine, because everyone knows I don't have a heart. I just thought to myself, by golly if he has to do it, then we might as well do it together." Mr. Johnson had a similar experience. "In 2008 I had a heart attack, and I also went to Cardio-Pulmonary Rehabilitation for treatment. Before that I had never had a major illness or broken bone in my life." Sister Mabel also started in Cardio-Pulmonary in 2008. "In my case, it was more preventative treatment my provider recommended I do," she said. "And I just continued. I really believe in it."
Anyone familiar with Mrs. Fiebig knows she has a witty mind with a quip ready for just about any conversation (as readers can see above with her joke about not having a heart). Asked what her favorite exercise is, her answer was, "None." Asked what her preferred piece of exercise equipment is, she followed up with, "The Dreadmill … not treadmill … be sure you spell it with a capital 'D.'" Mr. Johnson concurred, saying he also, "prefers the treadmill. I used to really like the elliptical. I still use it, but not as much. I really don't do the weight machines, mostly cardio exercise on six of those machines." Sister Mabel made it unanimous with her treadmill vote as well.
Asked what advice they'd give people who are thinking about exercising but put it off, they said not to wait. "It took a heart attack for me to start exercising, so that was a real wake-up call," Mr. Johnson said. "Just don't wait. Do it now." Mrs. Fiebig added, "Make it part of your daily routine." Sister Mabel answered with, "It's just good for you. If you want to be healthy you need to exercise, especially if you're sedentary, like office people. If you have a job that entails a lot of physical work, well not so much. But people with sedentary jobs really should exercise. Just get with it and do it."
The trio come more than three times per week, with Lila at the Wellness Center five days a week, Howard five days a week as well, and Sister Mabel about the same. Mrs. Fiebig likes to mix up her times. "I'll come up when I feel like it, late morning or early afternoon," she said.  Mr. Johnson has a more set routine, arriving around 7:00am each day.
All three said they enjoy coming to the hospital's Wellness Center. "When I said get with it and do it, it really is better when you have nice machines to work with like they do here," Sister Mabel said. "And the people here are wonderful. One day I was having some trouble with my oxygen tank while using the bicycle, and here comes Tim Devlin (Rehab & Wellness Center Manager). He stops and helps me find a place for me to put the tank so that I could do my exercise properly." "The people here are very nice," Mr. Johnson chimed in. "They look out for you and are great people."
The staff of the Wellness Center had been planning the reception for the three 90+ year olds for several weeks. Fitness Center Attendants Tim Aanenson, Stephanie Daniels, and Personal Trainer Courtney Schnell say they enjoy visiting with the three on a weekly basis. "We think they're great," said Mr. Aanenson. "I tell people all the time that I hope I can exercise like them when I'm 90 years old, if I make it to that age. They're some of our most dedicated members." Ms. Daniels said, "I enjoy having conversations with all three of them. They always have so much to share. I find them very inspiring and I hope I am able to do what they are doing when I'm their age." Ms. Schnell added, "I think it's inspiring to everyone around them. Here they are, in their 90s, and they still come to the center every single day."
"We really wanted to do something special for them," concluded Wellness Coordinator Dan Newhoff. "Although their birthdays weren't around the same time, we thought a birthday party would be nice. They're all over 90 and come and visit us, or use our facility (most of the time both) week in and week out. As health care professionals, we often only interact with people who need us for treatment of an illness or rehabilitation. These guys are special to us in that we get the interaction when they are preventing those things.  Whether they know it or not, they make many of us want what they have just by showing up.  It's definitely something worth celebrating being as active and dedicated to something like this at the age of 90+. We are proud to have all of them as members of the fitness center and think they are great role models, inspirations, and just awesome people."
Box Butte General Hospital is an equal opportunity provider and employer.