Traci Clarke's 40 years at Box Butte General Hospital celebrated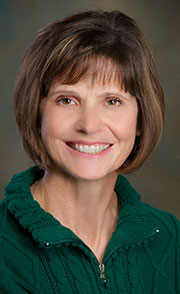 Around 300 people recently attended Box Butte General Hospital's 40th Anniversary Open House; celebrating opening its doors in October of 1976. There is one person that understands what a milestone that is: Licensed Practical Nurse Traci Clarke.
Traci started her LPN career at BBGH 40 years ago. "Actually, I started it the year before at St. Joseph Hospital," she said. "I graduated from the Alliance Vocational School of Nursing at St. Joseph in 1975, in September on a Sunday and started working there that Monday. I worked there for a year, until October 1, when they opened Box Butte General Hospital. So yes, technically, I've been employed at BBGH for forty years, but it's a tad bit more if you count my time at St. Joes."
Ms. Clarke has spent every one of those 40 years as a part-time employee at BBGH. "My family has always been very important to me," she said. "I have been really blessed with this organization. BBGH has been such a fantastic place to work for as it has always supported my being with my family as much as I could. I'd take time off whenever I had one of my five children, and start right back in where I left off."
Traci was first trained in labor and deliver, plus nursery. "We did just about everything back then," she said. "We would scrub for the delivery, help during labor, and take care of the mom and baby or babies for the usual three days they were held back then. If it was a C-section they would stay from five days to a week. So, yes, we'd get all the instruments  and delivery rooms ready, and we'd also take all the instruments used, scrubbed them, re-wrap them, and send them to the autoclave for sterilization. We also cleaned the rooms, scrub and made the beds; everything. It wasn't until we moved to BBGH and a bit after that Nursing Director Vicki Mentele got housekeeping to start cleaning the rooms. Let's just say I was glad I was young back then."
Those days also saw a labor and delivery department that was a busy as could be. "Those were the days when all the Burlington Northern people were being hired on," she said. "We had young couples moving in right and left, and they were all starting families. When you add the fact that we held mothers and their babies for at least three, four or five days … we had people in the hall with screens around them until we'd get a room open and get them in a room. I can remember we'd have up to eleven babies in the nursery. Most of the time we had three to four babies in the nursery each day. Then after the boom it started slowing down and now it's changed to where more often than not a mom and her baby are sent home in 24 to 36 hours." Ms. Clarke was in the labor and delivery department until 1983.
"I had my daughter Shawna then, and came back working on the Patient Care Unit floor, which was good for me," Ms. Clarke said. "It forced me to get back my knowledge of all the other things an LPN has to do when dealing with strokes, heart attacks, infections … all that stuff."
Asked why she never sought getting her RN certification, she said, "Again, it was my family. If I went after my Registered Nurse degree, it would have really taken away from me being able to attend all the things my children were doing while growing up. I love being an LPN, and I've never regretted staying as one."
One of the biggest changes she's seen over the years is the time patients are kept in the hospital. "As I said before, the length of stay for having a baby has been really reduced, and even for operations it's been reduced. We will operate and take out a person's gall bladder in the morning, then send them home in the afternoon after getting them up and moving around. All of that is great for the patient. We don't see nearly as many urinary tract infections or other things associated with long stays in a hospital. Getting them up and moving as soon as they are able is actually very good for them. I always tell people it doesn't take long at all to get sick or hurt yourself, but it takes a long time to get well. So the sooner you're up and moving, the better."
Working all these years in the Patient Care Unit and other departments where needed (she works in outpatient surgery as well), has allowed Ms. Clarke to get to know a wide range of nurses over the years. "I look at my coworkers as part of my family," she said. "You advise them, you mentor them and even help them with personal life issues. We do that for each other. I've always been a great believer that you do what you believe and people will see that. You can talk all you want to, create all the rules and regulations you want, but when they see someone who can be an example, that's when a difference can be made."
Asked what the favorite part of her career has been, Traci said, "I love getting paid to take care of people. In this job you get to help patients while assisting them with their daily needs and making them smile in the process. You would be surprised what happens when you sit on someone's bedside, hold their hand and look in their eyes and ask them, 'What can I do for you.' The response is amazing; the smile, the body language, all changing to feeling cared for. What a gift to have that as my job. It's the highlight of my career."
CEO Lori Mazanec added, "BBGH has been equally blessed having Traci Clarke's commitment and dedication to this organization, and fellow employees.  I remember her being there for my first daughter's birth, and if remember correctly, she was supposed to be finished with her shift and stayed anyway.  She has such compassion for all the patients and their families.  Traci is truly one of a kind, and we are so pleased to honor her in celebrating 40 years and being a big part of the great things that are happening."
After forty years on the job, the hours a nurse puts in is starting to weigh a bit. "You put in 12 hours most of the time, but that often can go to 13 hours," she said. "I used to be able to do that, go home and cook, make the bed, whatever. Now … I'm just thinking about getting home and relaxing after a long stretch." Part-time is relative at BBGH. It's supposed to be 28 hours a week. "But I'll put in 24 hours to 40 hours, depending on the hospital's need that week. So yes I do realize I'm getting older," she joked.
Ms. Clarke said she plans to keep to her schedule for at least another year. "Then, I'll still want to keep a hand in, possibly come in as a PRN when they need me," she concluded. "I still love what I do, and I think a person should continue to do that for as long as they can. Someone once told me he worked with person who was still going at 82. Well, I'm probably not going until I'm 82."
Traci and her husband Ben live outside of Alliance. They have five children: Jess, Sunshine, Shawna, Jasmine and Alyssa, as well as several grandchildren.
Box Butte General Hospital is an equal opportunity provider and employer.