The Mission of Box Butte Health Foundation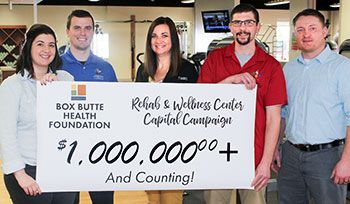 In 1996 Box Butte Health Foundation was founded to support the healthcare and wellness needs of the Box Butte County community. Today, the same passion spawning its creation is stronger and more alive than ever. Box Butte General Hospital affects the life of every individual in and around Box Butte County at some point in their lives in some way, whether it is having a baby, rushing to the Emergency Department or receiving health maintenance services such as cardio rehab or dialysis. BBGH is the 2nd largest and strongest provider of jobs in the community. Whichever way BBGH impacts your life, it becomes our purpose and passion at Box Butte Health Foundation to contribute and help BBGH to not just continue being the exceptional care provider it is today, but to grow and advance into the future. It is your generosity that makes our mission possible.
Each day at Box Butte General Hospital is remarkable. Suffering is comforted. Babies enter the world. Injuries are healed. Each day caregivers and patients come together. Lives are touched and people are changed. You can be part of this wonderful story by supporting exceptional healthcare and assisting people on their journey toward health and healing.
Give a gift of gratitude and support to Box Butte General Hospital with a gift through the Box Butte Health Foundation. You can do so by clicking here to access our secure online donation page.