Health Professions Club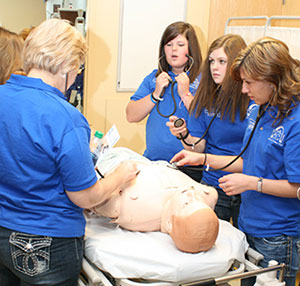 The Health Professions Club (HPC) is an organization for Alliance, Hemingford and Hay Springs High School students sponsored by Box Butte General Hospital and the Panhandle Area Health Education Center. The purpose of the Club is to expose students to a variety of health occupations and professions, allow opportunities to learn the work of these occupations, and help them understand the educational background required to be successful in these careers.
The Club hosts monthly meetings at the hospital with health professionals of various disciplines giving presentations about their particular field of expertise. The meetings are held during the school calendar year(September through May).
The Club also hosts an annual Occupational Health Fair which is open to the public, as well as takes trips to similar events in nearby communities. HPC members also enjoy an annual field trip to regional hospitals and educational institutions in order to further their education.
Students from 9th to 12th grades are eligible. There is no cost for membership. To inquire about membership, please contact Jaci Mach, 308.761.3034 or Carolyn Jones, 308.761.3354.