BBGH Construction Project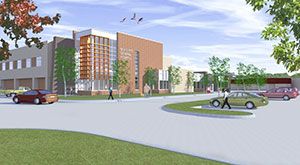 Box Butte General Hospital opened its doors in 1976 to provide inpatient services, taking over that duty from its predecessor St. Joseph Hospital. As the health care industry changed over the ensuing years, the hospital added a Multispecialty Clinic and other services during an expansion project in 2000, then a Medical Arts Plaza in 2007 to provide an on-campus home for both hospital and independent health care physicians and providers.

As health care continues to change, BBGH has committed itself to lead and innovate in healthcare delivery and community wellness. It became evident several years ago that to fulfill that mission, a new addition and renovation of the current facility was needed.

On October 1, 2013, Box Butte General Hospital broke ground on the two-story addition, with the upper floor introducing a new 25-bed patient care unit and the lower floor housing new space in support of the ancillary medical services dedicated to the care of area residents. The new addition opened in January 2016.
It was also decided that a more modern workspace for our Physical Therapists, Occupational Therapists, Pediatric Therapists, Speech-Language Pathologists, Wellness staff, and community members was needed to truly provide a great experience for patients who need to rehabilitate their bodies, and community members and employees to work out. Plans were made and the Rehab & Wellness Center was completed in February 2017.