Beyond the Walls of BBGH: A Three Part Series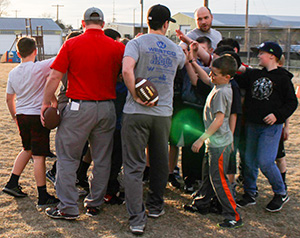 Part I: Jim, Tim, and Luke
For 42 years, Box Butte General Hospital has invested time, funds, and support to the community of Alliance and the surrounding areas. Volunteering is just a fraction of its commitment to lead and innovate in healthcare delivery and community wellness.
Recently three BBGH employees volunteered to go the extra mile by coaching the youth football program at the Alliance Recreation Center. COO Jim Bargen (JB), CFO Luke Senden (LS), and Rehab & Wellness Center Manager Tim Devlin (TD) answer some questions about their work at the hospital, volunteering, and the community. Here's what they said:
What is your background with BBGH? How long have you worked here?
TD: I work as a physical therapist and am the Rehab and Wellness Center Manager. I have been employed for almost 11 years here.
LS: I started working at BBGH 1 year ago. I came here to be the Chief Financial Officer.
JB: I've been the Chief Operations Officer for a little over two years. Prior to that I was the construction project manager for the new addition and renovations that occurred from 2013 to 2017.
What got you interested in helping coach youth football at the ARC?
TD: I have young boys and have always had a desire to coach. I enjoy sports and giving back to the community.
LS: Sports have always been a big passion of mine and this was a great opportunity to use my passion to give back to Alliance.
JB:  I had several great coaches growing up that helped mold my love for sports as well as me as a person. I've always wanted to pay it forward.
What has your experience been with the ARC?
TD: I think the ARC does a great job with their youth programming. They have been supportive of our ideas and have really tried to help grow youth sports development and skill development which I appreciate.
LS: This has been my first real experience with the ARC, and it's been good so far.
JB: My experience with ARC has been great! I've helped with football the last few years and other programs as well. My family and I especially appreciate everything the ARC offers to our community's youth.
How does helping coach this program align with BBGH's mission/vision/values?
TD: One of our values is teamwork and it is enjoyable to work alongside Luke and Jim and other community volunteers who have the same desire to teach. We are trying to instill in these youth many of our other hospital values, which include devotion to working on their skills, integrity in competition, not just being content with being ok but pushing them to be excellent and the idea that football is a team sport and showing them how to be good teammates and how to work together to achieve their goals. I am thankful that our organization allows me to participate in volunteering and I believe this helps us spread our mission of community wellness to our youth. It is one of the reasons why I think this is the greatest place to work.
LS: Helping kids find a passion for sports and activity directly aligns with the mission of BBGH in promoting community wellness.
JB: Getting kids to go outside and play sports with their friends is great for the kids' overall health and wellbeing. Teaching them the fundamentals will hopefully strengthen their love for the game. The love for a game may inspire them to keep working to get better whether it's at the ARC, home, or school. For me, sports strengthened my relationships with others and helped mold many lifelong friendships. My hope is that these kids will continue to stay active, play sports as they grow up, and build great friendships which will translate to overall better health and wellness. I also feel that helping other organizations in the community achieve their goals is what is needed in Alliance to strengthen what we have to offer in this community. Chelsie Herian, the BBDC Executive Director, has a quote that definitely rings true to me, "When one is successful, we are all successful!"  Excellence, compassion, devotion and teamwork are a few of the BBGH values that align with this quote and volunteering in our community.
What's your favorite part of volunteering?
TD: Seeing the kids develop their skills and smiling and enjoying being active.
LS: The kids are a blast to work with and seeing them learn something new has been great.
JB: I really enjoy working with kids to improve, watching them get better over the weeks and the best part is just seeing kids having a lot of fun.
Anything else you'd like to add?
TD: It is a pleasure to be able to give back to my community and I truly appreciate BBGH and the ARC for allowing me to volunteer. I think we have some great parents and organizations in this community who give a lot of their time to our youth and it is great to see the turnout of kids to these camps that the ARC or other organizations put on to keep our youth active and well!
JB: What drew me in initially to BBGH was the unparalleled friendly and family-like atmosphere this organization lives and breathes daily, and that continues to be my favorite part. I get to work alongside many amazingly dedicated people every day!
With nearly 100 volunteers working over 2,500 hours raising $100,000 and counting for a variety of programs, the experience of volunteering and giving back to the community is priceless.
Below is part two of this three part series. Mara Andersen, Director of the ARC answers questions about the youth football program, the ARC, and her take on BBGH's three volunteer coaches.