Continuing education for nurses never-ending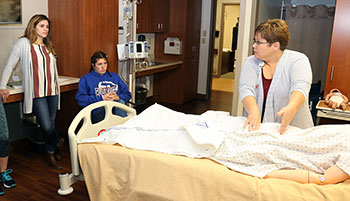 "Nurses have new and expanding roles. They are case managers, helping patients navigate the maze of healthcare choices and develop plans of care. They are patient educators who focus on preventative care in a multitude of settings outside hospitals. And they are leaders, always identifying ways for their practice to improve. Because nurses have the most direct patient care, they have much influence on serious treatment decisions. It is a very high stakes job. Everyone wants the best nurse for the job, and that equates to the best-educated nurse." — Judy Evans, RN, associate professor of nursing at Colorado Mountain College
A nurse's education never ends, which is why the role of Box Butte General Hospital's (BBGH) Nurse Educator Leah Delsing, RN, MSN is so important to the hospital's commitment to exceptional care for patients using the facility. Her job description has a lengthy list of duties. She is responsible for the initial orientation of nursing staff; provides annual education as required by The Joint Commission; manages the Basic Life Support program for both in-house and public education; provides Diabetes education and patient care in both clinical and non-clinical settings; oversees the records for nursing clinical competencies and scheduling for required courses, including but not limited to Basic Life Support (BLS), Advanced Cardiac Life Support (ACLS), Pediatric Advanced Life Support (PALS), Emergency Nurse Pediatric Course (ENPC), Neonatal Resuscitation (NRP), Trauma Nursing Core Course (TNCC).
But the catchall job she has is to meet the educational needs determined by staff, management requests, current trends, and weaknesses identified by competency assessment. "For example, if nursing staff discovers a need for training, they communicate that with me and I'll review best practices with them," Leah said. "It's usually based on low volume/high-risk procedures, such as chest tubes; not the actual placement (that's done by providers), but the care and maintenance of them after the providers place them. If the nurses find that catheters or IVs aren't being placed correctly, I work with them to renew their skills; essentially anything that nursing does daily that they discover a group or individual is struggling with." She also conducts competencies with nurses. "For example, for a blood transfusion competency I'll sit down with a nurse and she'll show me how that task is performed," Leah explained. "I'll mark what the nurse did well, and review what was missed if needed. Competency is keeping the nurse's skills at the top of their game." All nursing staff has to go through competencies in many areas, some universal, others specific to their department.
Leah coordinates with WNCC and UNMC for the students who come to BBGH for their clinicals in the spring and fall of each year, as well as the summer college students hired by BBGH.
Annual certification for the RNs working at BBGH is another time-consuming part of her duties. Advanced certification classes are done through the Rural Nebraska Healthcare Network and if needed through Regional West Medical Center. "We try to get their schedules for their advanced certifications done by February each year," she said. "We have nearly 50 RNs at BBGH, and I'd say I send each one of them to one or two classes per year."
She also schedules any training needed for new services offered by the hospital requiring additional nursing education. A good example of that is the resumption of Labor and Delivery services at BBGH. In the photo accompanying this story, Leah is using a manikin to demonstrate the correct way to do a fundal check of the top part of the uterus, making sure the fundus is firm and not boggy; just one of the postnatal care responsibilities nurses have to perform.
Leah, who became the hospital's Nursing Educator in January of 2018, doesn't claim to know all there is to know about every aspect of nursing. "The best part of this job is I love to teach," she said. "If I hadn't become a Registered Nurse in 2012, I'd probably have sought a career in teaching. But even so, by no means do I know it all. The continuing education for nurses at BBGH is a team effort. I could not do this job on my own. If I'm confident in how a certain procedure is done, I'll do the teaching. But if it is not in my field of expertise, then I reach out to the person who is at the top of their game for that procedure. There are many other nurses I rely on for training purposes. I've got some fantastic nurses I can reach out to."
Believe it or not, the hardest change Leah had to adjust to when she took on her role as Nurse Educator was working days instead of nights, as well as working five days a week instead of the typical nursing schedule of three days per week. "I was a night nurse for 10 years," she said. "My husband and I have a small farm, and we had to make some adjustments to our chores when I took on the job," she said. "But we've adapted and everything is going pretty smoothly now."
Box Butte General Hospital is an equal opportunity provider and employer.