GNMNSS Family Medicine and Obstetrics physician Dr. Derek Shafer ready and willing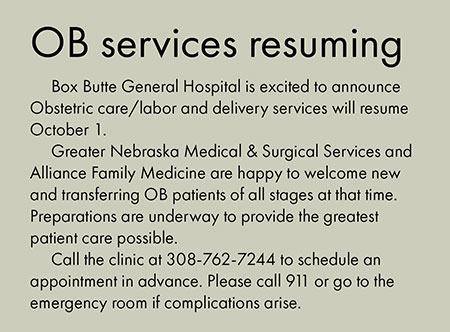 Greater Nebraska Medical & Surgical Services (GNMSS) is pleased to introduce the newest member of its medical team, Derek Shafer, MD. Dr. Shafer will provide his patients Family Medicine and Obstetrics care; the latter fulfilling a promise by Box Butte General Hospital to bring back Labor and Delivery to the hospital's suite of services after having to suspend it in January of 2019.
"I grew up around medicine," he said when asked why he had chosen to seek a career in healthcare. "My dad is a doctor. His Family Medicine and Obstetrics practice is in Sioux Falls, SD. At first, I was interested in a career in Biomedical Engineering, but soon realized I liked the more healing interaction and problem solving you find in taking care of people. I like the variety and broadness of Family Medicine, where something new walks through your door every half hour or so.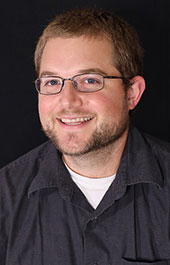 Dr. Shafer said he is looking forward to developing the long-term patient relationships involved in Family Practice. "You get to take someone who starts with a chronic disease and control it after a while. I also like the Obstetrics part of it because that's one of the most exciting parts of a person's life and you get to be there during that. You see someone every month for nine months, or more often, and you get to know them and become invested in the delivery. It jump-starts the long term relationships you get over the years. My dad is going to be featured in a medical journal about his experience with long-term relationships, specifically seeing several patients from the same family; from delivering their babies to being there for a mother's last birthday (she was diagnosed with a terminal illness)."
Dr. Shafer did a couple of months of Obstetrics in Omaha, but most of his residency in that field was in Scottsbluff. "I had four months dedicated to Obstetrics, and a resident clinic every week; having our own deliveries throughout the year if that didn't fall within those four months," he said. "I also assisted and performed C-sections with the Regional West's OB-GYNS throughout the year."
He and Alliance Family Medicine's Dr. Tim Narjes have spent the last month setting the foundation for the resumption of Labor and Delivery services at BBGH. "We've been collaborating with the hospital in making sure when we start in October that we deliver the best obstetric care possible at both clinics even if one provider is gone for personal reasons," Dr. Shafer said. "I spent a month last August with Dr. Narjes and his practice at Alliance Family Medicine, and it was good to see what their clinic does. It was nice partnering with them and getting to know the hospital and the town."
"I first met Dr. Shafer in early 2018 via phone call, and immediately knew BBGH was the right place for him, and Alliance for his family," BBGH CEO Lori Mazanec recalled. "Our conversations increased as he did his rural rotation in Alliance, and felt the relationship grow after that.  Dr. Shafer, his wife, and son came to BBGH for a formal site visit in late 2018 and by the end of 2018, Dr. Shafer made his decision.  The recruiting process can be very complex, so the details of 'getting it right the first time' are essential.  Because rural is so unique with recruiting, it almost seems that our organization was being interviewed, rather than us interviewing the physician.  Already, Dr. Shafer is finding his niche within our culture, and it has been a true joy having the Shafer family in Alliance."
Medical/Educational History
Dr. Shafer has excelled in education since his high school years, graduating from Washington High School in Sioux Falls in 2008 with a class rank of first out of 490 students. He received his Bachelor of Science in Biological Systems Engineering from the University of Nebraska-Lincoln in 2012. He then attended the University of Nebraska Medical Center in Omaha (UNMC), obtaining his Medical Doctorate in 2016. Dr. Shafer spent the next three years in the UNMC Family Medicine Residency Rural Training Track, with his first year at UNMC in Omaha and the next two at Regional West Medical Center in Scottsbluff. After exploring several position openings he chose to begin his medical career at GNMSS.
Working at GNMSS
Dr. Shafer has been working at GNMSS since July. "The hospital is very nice and I'm enjoying working with the staff in laying the groundwork for establishing my practice to see more patients and establishing OB," he said.
Fun Facts
"I will be going on a bit of family leave very shortly, my guess is September 8," he concluded with a smile. "That's the day I think Taylor, my wife, will have our baby … but she would prefer it to be sooner." The birth will be the second for the couple, with son Jack now two-and-a-half years old. Dr. Shafer is heavily involved in providing medical care in third world countries, having gone on missions to Peru in 2014, Haiti in 2016 and 2018, and Africa's Malawi in 2019. He's a self-proclaimed "board game aficionado," with farm strategy game Agricula his favorite (his grandparents on his father's side were farmers). He has long enjoyed disc golf (conveniently located just across the street from their home in Alliance) and belongs to a league out of Chadron (he was the champion in their latest tournament). He is, of course, a Huskers fan.
Box Butte General Hospital is an equal opportunity provider and employer.