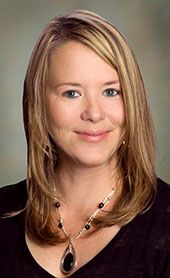 Box Butte General Hospital Information Technology (IT) Manager Mandy Greve, CPEHR, A+, ICE, was chosen by her fellow employees as the 2014 Employee of the Year. She received the honor from BBGH CEO Dan Griess during the hospital's annual Recognition Dinner held Friday, February 27 at the Westside Events Center.
Hospital employees voted on which of the 12 Employee of the Month winners should be considered as Employee of the Year. Ms. Grieve was the September 2014 Employee of the Month (EOM).
The people who nominated her for EOM said, "Mandy Greve is the backbone of the BBGH IT Department, in many ways the glue that holds that department together. She stays late on many nights making sure all the updates are done and everything is working properly so everyone else's day goes smoothly. She has been working with Healthland to get everything going for Centriq, doing most of the behind the scene work that most people don't see or even know is happening. Mandy always puts what is best for the hospital and its' employees first when deciding on new IT hardware and software. Besides heading the effort needed during the Centriq migration, she also had to get every workstation in the hospital upgraded to Windows 7, which was done with as little down time as possible for users.
"Those are just two of the many projects Mandy is constantly working on. No wonder we always see her buzzing around the hospital. Even so, she's always got a smile on her face and greets everyone with a hello. Even with all of that responsibility, she is never too busy to stop and help a patient find where they need to go. That's why Mandy is a perfect example of what Box Butte General Hospital looks for in an employee. Congratulations Mandy for being named the 2014 September Employee of the Month!"
Mandy started her career at BBGH in October of 2004 as Network Administrator. She was named Interim Manager from July 2013 to June of 2014 when she was named IT Manager.
Mandy and her husband Tucker live in rural Lakeside. They have two children, Trevor and Roper.
Box Butte General Hospital is an equal opportunity provider and employer.