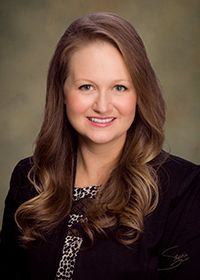 Every quarter BBGH recognizes a provider who's been nominated to receive Provider of Choice. This quarter, we congratulate Family Medicine provider Abigail Vogel, MSN, APRN, FNP-BC, ENP-C!
She is accepting new patients at GNMSS! Call 308-762-7244.
Her nomination reads:
"Recently both my previous primary care providers left BBGH. As someone who doesn't frequent the doctor's office unless I absolutely have to, I put off establishing with a new provider properly. As the end of the year came around I needed to get a prescription refilled which required me to visit with a new provider. I had heard good things about Abby as a provider and decided to establish with her. 
I scheduled an appointment at one of the busiest times of the year, probably, and her nurse was great about working with my schedule. She was also great and refilled my prescription right away. When I showed up for my appointment Abby was very kind, apologized for the wait, which was no trouble, and made me feel very comfortable the whole time. She explained my labs to me in-depth, but in a way that I understood, and made me feel like I was taking great care of my body. 
As a patient and an employee of BBGH, I can't stress how grateful I am to have Abby here, as a provider, and as a coworker. She is a provider I would recommend to anyone and everyone. She is educated, personable, caring, and kind. I know it was just a run-of-the-mill appointment- but doing a regular thing extraordinarily is one of the things that makes her great in my eyes. Abby represents BBGH's mission, vision, and values and deserves to receive Provider of the Quarter."