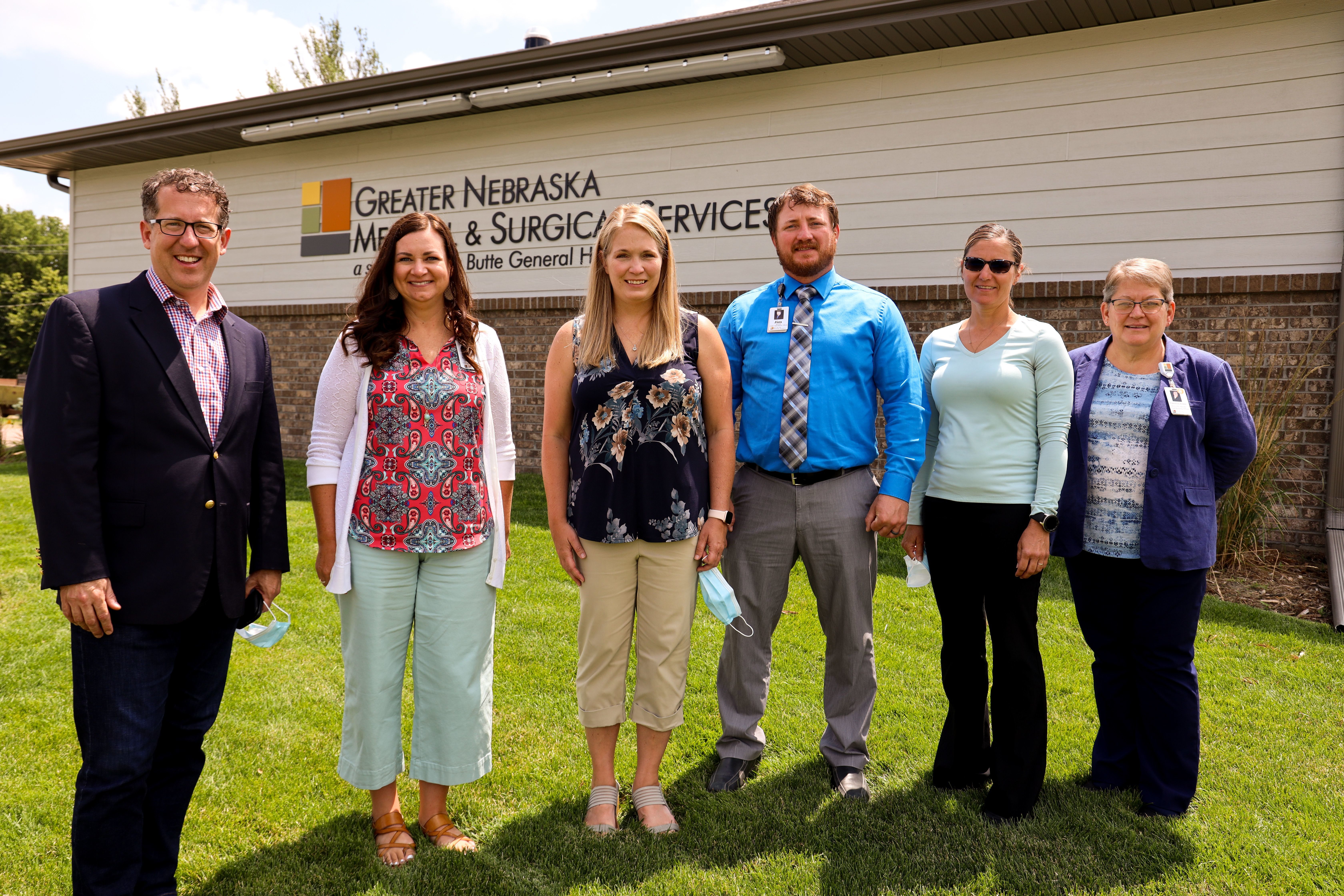 On Thursday, July 15th, Lori Mazanec, CEO, had the great pleasure of welcoming United States Congressman Adrian Smith, 3rd District Representative, to the Greater Nebraska Medical and Surgical Services (GNMSS) clinic in Hemingford. In October 2020, the GNMSS clinic opened its doors welcoming patients to the newly built facility equipped with state-of-the-art equipment. The GNMSS clinic in Hemingford serves a large population by providing healthcare to individuals and families in the rural setting.
Lunch was catered by The Village Pizza, giving Congressman Smith the opportunity to experience some truly great local grub. He made it a point to learn the names of everyone in the room and what their job role is. Accompanying him on his visit was Val Jansante, his Community Liaison for Scottsbluff. Joining the discussion and tour was Jim Bargen, COO, Carolyn Jones, CNO, Brittney Bauer, PA-C, Sally Bryner, APRN-C, Christy Leonard, MA, Heather Rehder, Patient Registration Clerk, and Nick Jefferies, PA student. Congressman Smith shared a few personal sentiments with the group while everyone enjoyed The Village Pizza.  
The agenda for his visit was to learn about the clinic, which allowed casual round-table discussion to transpire. Initial reflection of the COVID-19 pandemic led the group to express gratitude for the rural location of the community and the difference it made residing here compared to an urban area. This dialogue opened the discussion for the trials and tribulations some residents faced during the time of unknown. One major obstacle was residents having the proper equipment and resources to have their needed medical appointments via telehealth. Telehealth has formed into an opportunity to explore for Box Butte General Hospital (BBGH) and GNMSS with the mission of making healthcare accessible for everyone. While there are still a few aspects of telehealth that need ironed out at a higher level, Congressman Smith expressed great interest in helping to make it a more viable option.  
Brittney Bauer, PA-C, is one of the providers for the GNMSS Hemingford clinic and led the tour through the facility. The innovative aspect of the GNMSS Hemingford allows providers to give the greatest healthcare to the Village. Brittney Bauer, PA-C, Sally Bryner, APRN-C, and Abby Vogel, APRN-C, are providers for the clinic and take the time to get to know each patient to provide great care.