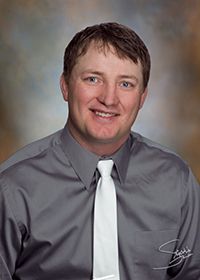 Help us congratulate our August Employee of the Month, COO Jim Bargen, MBA-HM, ACHE! His nomination reads: 
"Jim Bargen displays devotion to Box Butte General Hospital in every decision that he makes small or large.  Jim is not afraid to answer questions even the tough ones and if he does not have the answer he will seek the answer out and get back to you.  Jim consistently goes above and beyond with each task that he completes, striving to leave something better than when he started working on it.  The integrity that Jim has is a flagship to anyone that he meets.  Jim treats everyone like they are important no matter whom they are and does not judge you for mistakes or setbacks. Everyone that is working on a project, on a committee, and on a team that Jim is on knows that the outcome will be great because of his teamwork, integrity, devotion, and commitment for excellence.
Jim has been with BBGH for more than his 4 years of actual employment. His role began as our construction project started. Since that time, Jim has been instrumental in adhering to the safety of our environment through the addition and renovation and has thoroughly thought through each project since.
Recently, Jim has implemented our sustainability committee which officially takes note of the use and monitoring of hospital's resources and energy consumption. His lead and devotion to this committee will take BBGH to the next level when it comes to being green and conscientious about the footprint we leave behind."