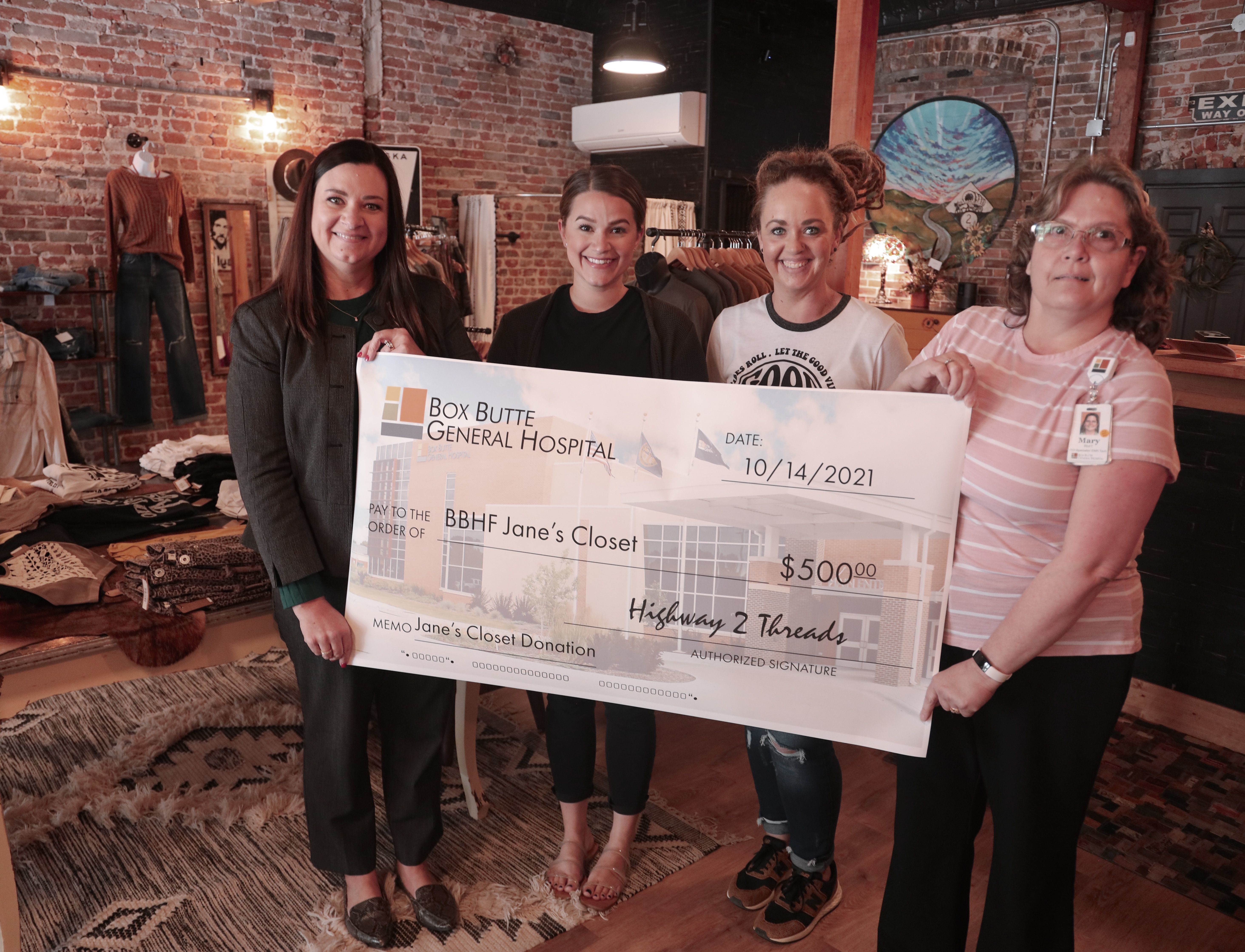 On October 14, 2021, Highway 2 Threads presented the Box Butte Health Foundation (BBHF) with a check donation of $500 for Jane's Closet. The proceeds were raised from the boutique's grand opening events that took place on September 10th and 11th. Tickets sold for the September 10th event were for the evening celebration and included live music, snacks, and first access to the merchandise. Twenty-five tickets were sold at $50 per ticket. Tickets sold for the September 11th event were for the early bird event for shopping prior to the boutique's normal hours of operation. Twenty-five tickets were sold at $10 per ticket. The grand total raised from the two events was $1,500 and was evenly donated amongst BBHF, P.A.W.S., and Community Table.
Highway 2 Threads owner, Elizabeth Fritzler, said "I wanted a place to shop in town," for the inspiration to open her own boutique. The boutique sells apparel, jewelry, and small home goods. It has an urban-grunge flair and is adorned with pieces that reflect Elizabeth's individual style. Highway 2 Threads is located downtown Alliance at 315 Box Butte Ave and on Facebook @highway2threads.
Jane's Closet is an organization for men, women, or children living in Box Butte County battling cancer of any kind. It provides monetary support, comfort bags, and more to assist individuals through their challenging time. For more information or to request help call 308-761-3423 or visit https://www.bbgh.org/services/other-services/janes-closet.html.     
Caption for photo: From left to right, Lori Mazanec, BBGH CEO, Chelsea Thompson BBHF Director, Elizabeth Fritzler, Highway 2 Threads owner, and Mary Goodell, Jane's Closet activist.