Speech-Language Pathologist joins Rehab & Wellness Center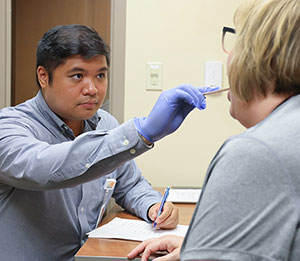 Patrick Duldulao, CFY-SLP (Certified Fellowship Year – Speech-Language Pathologist) is the newest member of the Rehab & Wellness Center (RWC) at Box Butte General Hospital. This is his first employment as a SLP, having earned his Master of Science in SLP from Andrews University in Berrien Springs, Michigan in 2018. Prior to passing his SLP certification exam, Patrick graduated from high school in a suburb of Toronto, Ontario Canada and earned his Bachelor of Arts in Linguistics Cognitive Science from McMaster University in Hamilton, Ontario Canada. He joined the RWC in June of this year and is already an integral part of the team.
"I've always wanted to have a career in healthcare," Patrick said. "My mom is a nurse and my dad a Medical Technologist. They both were travelers. As a matter of fact, they were doing contract work in Dubai in the United Arab Emirates when I was born. They moved to Canada in 1996 to further their careers."
Explaining what a SLP does, Patrick said, "A SLP evaluates each individual to develop a plan of treatment designed to improve their daily communication abilities and/or swallowing safety and efficiency. With adult patients, frequently a problem with swallowing or communication abilities will occur due to a neurological change or disease, such as a stroke; or due to a trauma, such as an accident with traumatic brain injury. In pediatric patients, the most commonly occurring communication challenges are due to delayed development of motor skills for speech sounds or delayed development of language skills." Speech-Language Pathologists must have a master's degree to practice as a therapist and must be accredited by both their national organization (the American Speech-Language-Hearing Association) and have a state license.
Patrick said specific treatment areas include:
Articulation (how to say speech sounds so one is able to be understood)
Language (expressing and understanding one's wants/needs/ideas, reading and writing)
Cognition (attention, memory, problem solving, reasoning, planning, flexibility of thinking, self-awareness, self-inhibition)
Swallow function (difficulties with chewing, moving food in the mouth, swallowing food and liquid)
Voice (using appropriate volume, pitch and quality)
Fluency (stuttering, cluttering or improving the flow of speech)
Alternative or Augmentative Communication (providing other methods to communicate using symbols or speech-generating devices)
"An important aspect of treatment is educating the patient on what is normal and what is disordered, which allows them to make an informed choice on whether they would like to seek therapeutic intervention," Patrick said. "Once they are aware and make that choice, I can do tests to see how that particular physiology (voice, swallow, memory) presents. Then if needed, I can do a comprehensive evaluation that will narrow down which of those domains are showing some dysfunction. I also ask the patient what they want to get out of the treatment and what their expectations are."
He said he especially appreciates the RWC's pediatric gym. "I've been able to use that to help a pediatric patient. Studies have shown that extremity motor skills use the same areas of the brain that are used to develop our articulator muscles for speech. By improving extremity motor skills by getting the patient doing a lot of movement, it actually helps stimulate the development of motor skills for speech. The pediatric gym is very useful for doing that."
Patients are referred to Patrick for evaluation through self-referral (through their provider); via a provider in an inpatient setting such as the Patient Care Unit; or by his fellow physical or occupational therapists, who often see signs of possible pathologies during their interactions with patients.
Patrick is impressed with the team he's been working with the past couple of months. "There is a sense of belonging since I've started working here," he said. "People are very prompt and follow through on procedures I may feel warranted. They are really focused on basing their treatments on what works; a lot of evidence based practice, which is what I value. We also consult and communicate well on how we can improve a patient's intervention. I really like the open forum we have here. If I have a question, they are very open to finding solutions and doing their best to find that solution using whatever resources they have available. They are very innovative as well, and open to suggestions."
He stressed that he plans to continue the RWC's current Stroke and Brain Injury support group that meets once a month at BBGH.
Patrick enjoys his hobbies. "Most of my extended family lives in Hawaii, obviously a place with a lot of beaches. So I really enjoy going the beach and sailing as well," he concluded. "On the flip side, growing up in Canada, I really enjoy going to ice rinks."
Box Butte General Hospital is an equal opportunity provider and employer.