Welcome to the BBGH Fitness Center!
Staffed Hours are Monday - Friday 6:00 am to 6:00 pm and Saturdays from 9:00 am - Noon. The facility is a 24/hour access. For more information, please contact 308.761.3359. 

Equipment
Cardiovascular: 
Rowers
Stationary Bikes
Stair-Steppers
Treadmills
Elliptical Trainers
Nu-Steps
UBE (Arm Bike)
Helix Lateral Trainer
Cybex Arc Trainer
HITTMill
Recumbent Bike
Resistance:                                             
Nautilus Inspiration Series Equipment
Chin/Dip Assist
3 Lower Extremity
5 Shoulder/Chest
Cable Crossover
Abdominal
Back Extension
Bicep
Tricep
Medicine Balls
Stretching Mats
Thera-Balls
Resistance Bands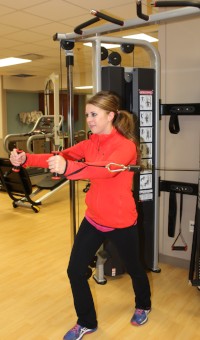 Free-Weights
Dumbells (5 lbs. to 100 lbs.)
Pre-weighted Curl Bars
Preacher Curl Bench
Kettle Bells
Platform
Bumper Plates
3D Freedom Rack
Double Rack
Back Extension
Leg Press
Fitness classes are available to all members. Please call 308.761.3359 for more information, including class dates and times.