Box Butte General Hospital and Box Butte Health Foundation Educational Scholarship Program
Box Butte General Hospital and Box Butte Health Foundation's educational scholarship programs offer recipients the opportunity to advance their education in a healthcare career.
Our educational scholarship program is supported by the administration and governing board in order to assist and recruit well-educated, dedicated employees for Box Butte General Hospital.  Internships and employment are encouraged to expose recipients to the hospital environment and maintain connectivity to the community, thus increasing the likelihood of future employment.
ELIGIBILITY AND REQUIREMENTS
Eligible applicants must be:
Resident of Box Butte, Dawes, Morrill, Grant, or Sheridan Counties. 
Planning enrollment in an accredited college program leading to a degree or diploma in a healthcare occupation.
Either a senior in high school (BBGH Scholarships) or a college student (BBHF Scholarships).
Preference is given to current or past BBGH employees.  If there are no applicants with employment experience at BBGH, preference will then be given to applicants who have past membership in the following BBGH sponsored programs:
BBGH Student Cadets
BBGH Health Professions Club
BBGH Summer Intern Program
Renewal:  Participants are to submit their official college transcript at the completion of each semester to the Nursing Administrative Assistant.  Recipients must maintain satisfactory academic status to progress in the program of study for second semester financial assistance.  Funding for the second semester will be sent when these conditions are met.  Recipients may reapply for funding each year.
* The scholarship money is payable ½ each semester directly to the school or college.
   The second ½ is payable when conditions for renewal are met.
Award Amount:
10 - $1,500 Box Butte General Hospital Scholarships to seniors or current high school graduates.
5 - $1,500 Box Butte Health Foundation Scholarships to current college/non-traditional student.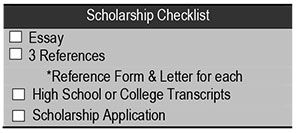 APPLICATION REQUIREMENTS FOR SCHOLARSHIPS
Box Butte General Hospital and Box Butte Health Foundation
Please complete the attached application form and return it with all of the following information:
Essay (300-500 words)
Write a concise paper about yourself, why you have chosen a healthcare career, what this scholarship means to you, health professions club activities, relevant work or shadowing experience, and advantages of living and working in rural areas.  Also include the personal and professional goals you hope to achieve in your new role as a healthcare professional.
 
Personal References
Three references are required on official reference forms (*print 3 reference forms from the link below)

*References should be from instructors/teachers or counselors who have recently advised or taught you within the past two years.

**One reference from a BBGH supervisor and/or manager if current or previous BBGH employee, in lieu of one faculty reference is recommended, if currently or previously employed (or shadowed) at the hospital.
 
Transcripts
Include a copy of your transcripts showing your academic standing to date.  Transcripts must also be submitted at the completion of each semester.
Residents:  Applicants must be residents of Box Butte, Dawes, Morrill, Sheridan or Grant Counties.
Please mail the above information and completed application to:
Box Butte General Hospital
ATTN:  Nita Peterson, Administrative Assistant
PO Box 810
Alliance, Nebraska  69301
Submissions that do not meet all requirements are not considered eligible for award.
Deadline Postmarked: March 15, 2021
(Applicants must submit 3 references along with letters of recommendation)
Please click on the following link for a Adobe Acrobat PDF of the application/reference form. Remember to print out three copies of the recommendation form.