Respiratory Therapy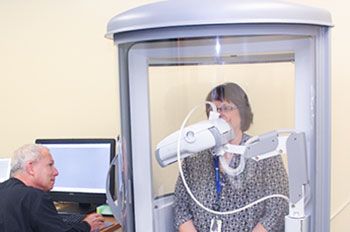 Box Butte General Hospital's Respiratory Therapy Department provides treatment, monitoring, evaluation and management of patients with breathing disorders or cardiovascular problems. A brief description of the type of care provided by our respiratory therapists includes the administration of oxygen, cardiopulmonary resuscitation, management of mechanical ventilators, administering drugs to the lungs, monitoring cardiopulmonary systems and measuring lung function.
Respiratory Therapists treat all types of patients, ranging from premature infants whose lungs are not fully developed to elderly people with lung disease. They provide emergency care to patients who are victims of accidents, heart attacks, stroke, shock, or drowning, as well as provide temporary relief to patients with chronic asthma or COPD.
Some of the services provided include:
Pulmonary Function tests
Nebulizer
Chest percussion
Postural drainage
Instruction in breathing-coughing-lung disease -drug administration
Continuous Positive Airway Pressure (CPAP) and Bi-level Positive Airway Pressure (BI-PAP) use and other chest related subjects
Mechanical ventilation
Oxygen administration
Remember, one of the best ways to increase your chances of having healthy lungs free of chronic disease is to never take up the habit of smoking ... and if you do smoke, quit!