Welcome to the BBGH Wellness Center!
Staffed Hours are Monday - Friday, 7 am - 5 pm.
Orientation hours are Monday - Friday 8 am - 4 pm. To ensure time and staff are available, please call ahead to schedule.
The facility has 24-hour access. For more information, please call 308.761.3359 or stop by during staffed hours.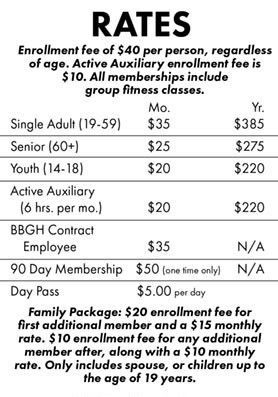 Equipment
Cardiovascular: 
Rowers
Stationary Bikes
Stair-Steppers
Treadmills
Elliptical Trainers
Nu-Steps
UBE (Arm Bike)
Helix Lateral Trainer
Cybex Arc Trainer
HITTMill
Recumbent Bike
Resistance:                                             
Nautilus Inspiration Series Equipment
Chin/Dip Assist
3 Lower Extremity
5 Shoulder/Chest
Cable Crossover
Abdominal
Back Extension
Bicep
Tricep
Medicine Balls
Stretching Mats
Thera-Balls
Resistance Bands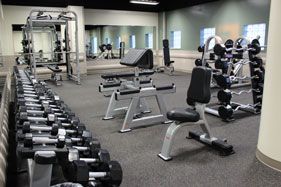 Free-Weights
Dumbbells (5 lbs. to 100 lbs.)
Pre-weighted Curl Bars
Preacher Curl Bench
Kettle Bells
Platform
Bumper Plates
3D Freedom Rack
Double Rack
Back Extension
Leg Press