Diagnostic Imaging
At Box Butte General Hospital, you'll find some of the most advanced medical imaging systems available.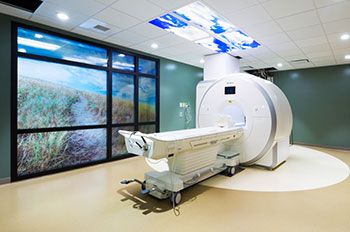 Services include:
Bone Densitometry (DEXA)
Computerized Tomography (CT Scan)
Diagnostic X-Ray
Magnetic Resonance Imaging (MRI)
Nuclear Medicine
Ultrasound
Exams are read by board eligible and certified radiologists specifically trained to read medical images. Diagnostic Imaging currently has a radiologist at BBGH one day a week to perform diagnostic procedures. Our advanced technology allows us to immediately route images to the radiologists for interpretation. The images are networked to the radiologists who are able to view the images utilizing internet capability. The radiologist interprets the exam and reports are transmitted back to BBGH and the patient's physician. Because most of the exams are being stored electronically, please call the Diagnostic Imaging Department, 308.761.1311, two to three days in advance if you need to check out your CD containing the images. We will be happy to make these available for you.
All services for children in our Medical Imaging Department requiring exposure to radiation follow Image Gently protocols.
If you have any questions regarding any of the exams performed, please don't hesitate to contact Diagnostic Imaging for details -
308.761.1311 Monday- Friday 7:30am- 4pm. 
They will be glad to answer any questions or concerns. Please call in advance for scheduling and exam instructions as certain exams require special patient preparations.