Comprehensive Rehabilitation
Office Hours: Monday-Friday, 8:00 am to 5:00 pm
Phone Number: 308.761.3372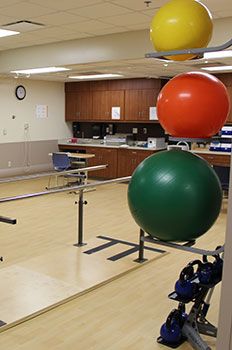 The Rehab and Wellness Center at BBGH supports a full staff of therapists that covers all three disciplines; Physical therapy, Occupational therapy, and Speech/Language Pathology. Each therapist uses specific techniques and treatments aimed at progressing you toward your goals to recovery. As a multidisciplinary team, we take a patient centered approach that is custom tailored to each patient's individual needs.
Physical therapists specialize in musculoskeletal impairments that limit a patient's ability to move, walk or complete meaningful tasks. They treat a wide range of injuries and impairments ranging from stroke, recovering from surgery, or returning to sports.
Occupational therapists focus more on the patient's activities of daily living. They are able to provide education and adaptive equipment to patients so that they can return to completing work, home, or recreational activities.
Speech and Language Pathogists are specialized in the ability to evaluate and treat issues related to a patient's ability to talk, swallow, comprehend information and problem solve. They also provide education and helpful ways to deal with memory or attention issues.
In addition, our Wellness Center for physical exercise is staffed by professionals ready to assist you in the use the Center's full range of exercise equipment to help you meet your health goals.