BBHF Capital Campaign
Capital expenditure for the hospital for both Phase I and Phase II of the Rehabilitation and Wellness Center renovation was $3,738,000.
The Rehabilitation part of the renovation will see reimbursement of that expense through private insurance, Medicaid and Medicare reimbursement. The Wellness Center doesn't receive any expense reimbursement, except through very reasonable membership fees. "Because of that, we are asking the community to make a onetime investment in the Wellness Center," Box Butte Health Foundation Director Brooke Shelmadine said. "Now is the time to go public with the Box Butte Health Foundation's capital campaign to finish funding the facility."
"Our total fundraising goal is $1.4 million," Ms. Shelmadine reported. "Last year we initiated the silent phase of our capital campaign. A large part of that was the Ethel S. Abbott Charitable Foundation challenging us to match a $250,000 grant they awarded us."
To date, the total amount raised through donations and pledges is $1,008,056. Ms. Shelmadine said, "That's 72 percent of our goal, with $391,944 still needed to meet it. We are still in the public phase, meaning we will invite the community in and increase our efforts to raise funds to push us to the top."
There are several ways people can give. "Of course, we'll accept any amount, no matter its size," she said.  "Any show of support is always appreciated and every dollar gets us closer to going over the top. With that said, we do have several recognition incentives for larger amounts. If a family, business, or individual gives $5,000, they will be included on our donor wall. For gifts of over $20,000 you can have an individual room named after you, your family, or in memory of a loved one. These $5,000 and $20,000 levels are where families can get involved to pool their money in their family name or to honor someone in their family, not just as in a memorial, but someone still living. We already have 11 rooms named, with several others still available."
BBHF is a 501(c)(3) charitable organization, making all gifts tax exempt. Donations and or pledges can be sent to: Box Butte Health Foundation, PO Box 810, Alliance, NE 69301. Donations can also be made by clicking here (be sure to choose Capital Campaign in the Gift Designation field). Ms. Shelmadine can also be reached at 308.761.3079 for answers to any questions or requests.
For more information regarding the Capital Campaign, please contact: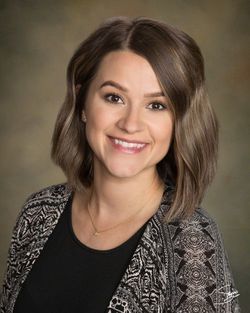 Chelsea Thompson
Foundation Director
308.761.3079