Advances in amniotic tissue allografts for wound treatment a game changer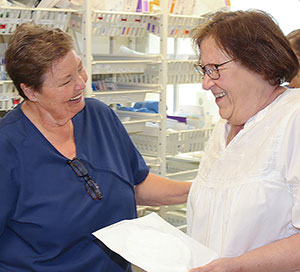 An injury that does not heal not only wounds the flesh; it wounds the soul.
Box Butte General Hospital Wound Care Coordinator Sue Martin, MS, RN, CS, FNP, ARNP-BC, CWOCN-AP, is passionate about the wellbeing of her patients. The last accreditation (CWOCN-AP) in the long list of accreditations is indicative of that. CWOCN-AP stands for Certified Wound, Ostomy, and Continence Nurse Advanced Practitioner. There are only 47 such accreditations earned by wound care specialists in the United States. Sue is one of them.
So yes, Sue is passionate about wound care, which leads her to constantly research the latest best practices and options available. A surgeon colleague of hers recently told her about a relatively new treatment he had been told about, and after researching the product she reached out to the company that makes it. That product is amniotic tissue.
One of the leaders in amniotic tissue allografts is Amnio Technology, LLC. AmnioSource Distributor Partner Peter Tebow has been the go-to person for Sue since she started using the Arizona based company's PalinGen® Membrane (dry) & Hydromembrane (wet) allografts.
Sue has been using their products on a patient that hasn't responded well to traditional forms of wound care. The results she and her patient are seeing are, in her words, "Amazing. We're seeing healing that would normally occur over five weeks with multiple treatments per week, happen in one week, with just one weekly visit to our office."
So how does amniotic tissue work?
The amniotic membrane and the fluid it contains is what surrounds and protects the fetus while in utero. It separates the mother and fetus. "It's actually made up of two parts; the outer chorion layer and the inner amnion layer," Peter explained. "It's the inner amniotic layer we use for our product since it's less prone to rejection. It contains many biologic and physiologic properties important in the protection of the fetus. It's long been known that those same properties help heal wounds. We obtain the tissues from donors of healthy women who consent to allowing the membrane, which is typically discarded, to be recovered after birth. The tissue is then tested to ensure viability and safety, and then processed."
"Actually, the amniotic membrane has been used for wound care for nearly 100 years," Peter continued. "But recent advances in just the past few years on how to process the membrane, treat it for shelf longevity, and apply it, have seen a resurgence in its use for wound care."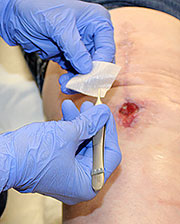 A patient's experience
One of the patients Sue has been treating with PalinGen® wet and dry allografts is Deb Wegehoft. "Deb had surgery on her knee in February," Sue said. "Due to some unrelated difficult health issues Deb experienced soon after, further surgery was needed to remove dead tissue that had formed in the incision. That resulted in her being sent to me for treatment. I tried all the traditional wound care options, but Deb and I just weren't seeing much progress after three months of two to three times a week treatment. We talked, and in the beginning of June we started using the PalinGen® allografts, both wet and dry. The results are striking."
Deb, who received her third allograft application June 27th, said she's ecstatic over the results. "After months of just not seeing much progress; when I came in a week after the first treatment and Sue took the bandage off that covers the allograft, I could actually see a huge difference," she said. "I could see the skin healing and the wound filling in. I can't tell you how that made me feel. I never had any issues with infection, but the longer a wound remains open, the better chance of that complication happening. When you have an open wound for so long and see it not really healing, it does have an effect on you mentally. So what I've seen over the past few weeks has done me a world of good. It's such a relief to see it closing. Oh, and the pain factor. The pain I had with this wound was getting worse. Three days after the first treatment it was gone."
The process
Usage of PalinGen® is considered a last resort treatment, one to be used only after patients are not responding to traditional methods. "It's covered by Medicare," Peter said. "Other insurance plans are coming on as well. Amniotic membrane treatment should only be used after conservative treatment has failed for wounds that are chronic and non-healing. For Medicare, a patient has to have gone at least 30 days using other wound care options before it can be covered."
Once Sue determines no other options are working in the best interests of the patient and the use of PalinGen® is warranted, she will work with the patient in obtaining insurance coverage. "It is an expensive treatment," she concluded, "but not really when you consider how much it costs to treat a patient whose wound is being treated for months, often two to three times a week with little or no improvement."  
Box Butte General Hospital is an equal opportunity provider and employer.