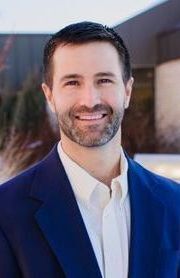 Box Butte General Hospital's (BBGH) vision is to be the greatest place to receive care, to work, and to practice medicine. It strives to lead and innovate in healthcare delivery and community wellness. BBGH works to achieve that by offering services not typically found in rural communities. It is important to BBGH to provide specialty services within reach of Box Butte County and to not compromise on healthcare because of where patients live.
Brian Shelmadine, DO, PhD, CSCS, CASQSM, has been a primary care sports and lifestyle medicine provider since 2015 and has worked for BBGH since 2020. However, he has been working in adjacent fields of exercise, nutrition, teaching, coaching, and strength and conditioning since 2003. He's received a bachelor's degree in mass communication, a master's in exercise science, a doctorate in exercise, nutrition, and preventative health and another in osteopathic medicine, and two post-doctorates from a variety of institutions.
There is a point in every medical provider's life when they realize their calling to care for others. Dr. Shelmadine realized that he wanted to help others while competing internationally in track and field during the summer of 1997. One night while doing laundry in in Innsbruck, Austria, he sat and listened to a chaperone as she grieved the death of her niece. After receiving a letter from the chaperone months later where she thanked him for helping her, Dr. Shelmadine realized the impact he had on her. He said that that experience made him realize that he could make a difference in someone's life and that he wanted to spend the rest of his life helping people.
Later, while pursuing a master's degree in 2005, Dr. Shelmadine worked as a personal training working to chronically ill clients and discovered that he wanted to be a physician, and that he wanted to use exercise and nutrition to help treat people and their habits.
"Honestly, it was this process that made me become a doctor," he said. "In short, I felt called to practice medicine in a different way than was being practiced 20-25 years ago. This style is more common now, but it's still not the norm."
Great patient care is of the utmost importance to BBGH and the medical providers. Dr. Shelmadine's philosophy for patient care is rooted in his personal background and the education he has received.
"My entire purpose, from a medical standpoint, is to help people to get as much out of the remaining years they have left, to help them be as active and as healthy as possible doing it, and to do it in a manner that empowers them to take an active role in their health care," he said. "If people aren't active, I want to help them be active. If they are active, I want to help them maintain that level of activity. If they are injured, I want to help them return to a level of activity beyond what they were when they suffered an injury. I do this through a combination of exercise, nutrition, stress management, sports medicine, and osteopathic manual treatment."
Every medical provider has different strengths that set them apart. For Dr. Shelmadine, there are several that he uses in patient care.
"I like to think that my ability to listen to what a patient is truly saying, understand what they want out of their care and their life, applying my knowledge base, and truly believing in people are my greatest strengths," he said.
It is imperative to find a medical provider that gives the style of care that aligns with one's desires. To schedule an appointment with Dr. Shelmadine, call 308-762-7244. To learn more about the services offered at BBGH, visit www.bbgh.org.